Do you know what HD Streaming Movies is?
HD Streaming Movies is a potentially unwanted program that seemingly wants to trick users into believing it can provide original movie streaming services. However, that is very far from the truth because the application cannot function from third parties. What's more, it is very likely that the program entered your system uninvited, and it could be associated with a list of potential security threats. Our security experts suggest removing HD Streaming Movies, as it may be the best way to ensure your system's security. For full removal instructions, scroll down to the bottom of the page.
Unlike most of the potentially unwanted applications (PUP), HD Streaming Movies does not seem to have an official homepage. PUPs tend to have official and direct distribution sources to support the idea that the programs are reliable and useful tool, created to improve a particular system function or provide you with necessary service. Nevertheless, that is not the case with this program. You might wonder how users install the application if it has no official site and you cannot download it directly. The answer is: bundled downloads. Just like most of the PUPs and adware apps, HD Streaming Movies comes with a heavily bundled installer.
It means that you have downloaded the program yourself from some freeware distribution site. Sometimes such downloads are initiated willingly; sometimes they start automatically when you accidentally click a random pop-up; whichever it might be, it clearly shows that you should be careful when you browse the web because you have to avoid such direct exposures to potential threats.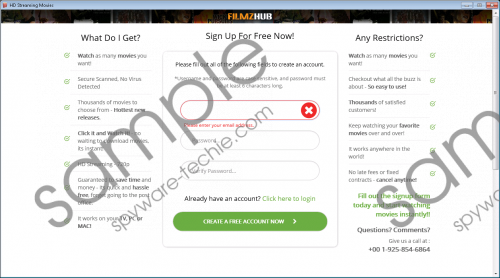 HD Streaming Movies screenshot
Scroll down for full removal instructions
What's more, if HD Streaming Movies came in a third-party installer, it also means that you have installed multiple other unwanted applications on your PC. Perhaps that is the reason your computer has been slower lately, and you are constantly assaulted by annoying pop-ups.
The program that we deal with here actually consists of one executable file that serves as a browser window and launches an unreliable website. The website HD Streaming Movies opens may depend on your location. For instance, during our tests, the program opened megaflix.net and then flixjunky.com. For the most part, this program and all the related sites try to make you think that you can enjoy online video streaming through them, but that is not the case.
The online video streaming service is not provided even if you pay the subscription fee, and the program constantly redirects you to third-party video websites. You clearly could open those websites even without HD Streaming Movies installed on your PC, so it is easy to see that the application is nothing but a scam, created to trick unsuspecting users into giving away their money.
The program's executable itself is not considered malicious, but you cannot ignore the fact that the program tries to trick you into believing it is the real deal. Make your life easier by removing HD Streaming Movies today. Go to the Control Panel and terminate the application. While you are at it, get rid of all the other unwanted programs, too. If you do not know how to recognize potentially unwanted applications, scan your computer with the SpyHunter free scanner.
When you have a list of all the programs you need to delete, terminate them either via Control Panel or with a computer security tool of your choice. Do not hesitate to acquire a licensed antispyware program because this way you will safeguard your system against similar infections.
If you encounter any problems while trying to get rid of the potential threats, do not hesitate to look for assistance by leaving us a comment. Our team is always ready to help. Also, you can leave us questions about computer security in general, and we will be more than glad to give you a reply.
How to Delete HD Streaming Movies
Windows 10 & Windows 8.1
Press Win+R and the Run prompt will open.
Type Control Panel into the Open box and click OK.
Select Uninstall a program and remove the unwanted application.
Windows Vista & Windows 7
Open the Start menu and click Control Panel.
Go to Uninstall a program and remove the PUP.
Windows XP
Click the Start button and navigate to Control Panel.
Access Add or remove programs and uninstall the PUP.
In non-techie terms:
HD Streaming Movies is an application that does not provide you with anything useful. You need to remove it from your computer if you want to avoid potential malicious exploitation. Potentially unwanted programs could be easily misused by cyber criminals, so if you fail to recognize potential danger, your personal information could be stolen and your computer could get infected with malware. Do all you can to avoid that from happening.