Do you know what Hc6 Ransomware is?
Hc6 Ransomware is another vicious file-encrypting application designed for money extortion. Its first version could be decrypted with a free decryption tool developed by volunteer IT specialists, but as for later versions, our researchers report they can no longer be deciphered because of new alterations. Thus, depending on the received version you may have or may not have a chance to decrypt your data. However, if you are prepared for such emergencies and all of your valuable data is safely backed up you have nothing to worry about. In which case, we advise users to remove the malware as soon as possible and replace encrypted files with copies they could have only when the system is secure. One way to eliminate Hc6 Ransomware is deleting its data manually, and if you take a look at the removal guide available below, you can learn how to do so. For users who would like to find out more about the malicious application first, we would recommend continuing reading this report.
Like any other ransomware application, Hc6 Ransomware might enter the system with suspicious email attachments, infected software installers, and other carelessly downloaded files. After its launch, the user might see a CMD window with targeted locations. Our researchers say the malware could target all mapped drives on the computer. With its start, the infection should begin the encryption process during which it could encipher pictures, photos, videos, text documents, and so on. Each encrypted file is supposed to have a second extension called .faku. Some similar threats change the original encrypted file's name too, but Hc6 Ransomware leaves it unchanged.
As soon as all of its targeted files become enciphered the malicious application should create a document called recover_your_fies.txt or similarly. The file might be placed on user's Desktop, and inside of it, there should be a message from the Hc6 Ransomware's creators. There are a lot of grammatical mistakes, but if we understand what is written correctly, the cyber criminals behind the threat expect to receive 2500 US dollars paid in Bitcoins. Apparently, after transferring the money into the provided account, the user should contact them via email; probably, to show payment details and receive a decryption key. Obviously, if you agree to this you would be dealing with hackers, and the truth is such people cannot be trusted. There are always situations when users get tricked and lose their money in vain. Therefore, we would advise you to consider this option with most care or better yet not to take any chances when the sum is so huge.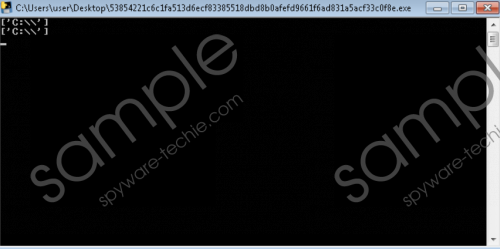 Hc6 Ransomware screenshot
Scroll down for full removal instructions
It seems to us if you do not want to risk your money, there is no point in keeping the malware, on the contrary, it is advisable to eliminate it as fast as possible. Our researchers can suggest a couple of deletion options. For instance, less experienced users could get a reputable antimalware tool and perform a system scan to detect and erase the malicious application with automatic features. More experienced users could try the removal guide placed a bit below this text and get rid of Hc6 Ransomware manually.
Delete Hc6 Ransomware
Click Ctrl+Alt+Delete.
Choose Task Manager.
Identify a suspicious process associated with this malicious application.
Select this process and press the End Task button.
Leave Task Manager.
Tap Windows Key+E.
Navigate to Desktop, Temporary Files, and Downloads folders.
Search for a malicious file that got the system infected.
Right-click the threat's launcher and press Delete.
Navigate to %TEMP%
Look for a folder named _MEI33802; the title might be random.
The folder should contain one of the following files: Crypto.Cipher._AES.pyd or Crypto.Hash._SHA256.pyd.
Right-click _MEI33802 and press Delete to erase the malware's folder.
Remove the file called recover_your_fies.txt; could be on your Desktop.
Close the File Explorer.
Empty the Recycle bin.
Restart the system.
In non-techie terms:
Hc6 Ransomware is a malicious application that encrypts user's data and marks it with .fucku extension. Then the user receives a ransom note asking to pay a particular sum in Bitcoins. In return, the cyber criminals behind the infection could promise to send needed decryption tools. Sadly, you cannot know for sure that they will deliver what was promised. In other words, it is quite possible you might be left with less money and still encrypted files. If this scenario does not sound good, we urge you not to gamble with your savings and look for other ways to get your data back. Also, users who decide not to pay the ransom are advised to eliminate the malware and secure their systems. The removal guide available above will show how to get rid of the threat manually, but if you would rather use automatic features, you could download a reputable antimalware tool instead.