Do you know what Havoc Ransomware is?
It is our duty to inform you about all new infections that could put your virtual security at risk, and this is why we are discussing Havoc Ransomware. The funny thing is that this infection is unlikely to be spread like a real ransomware because, allegedly, it was created as an experiment. Nonetheless, this bogus infection has the potential to be a real danger, and so we have to report it. Hopefully, no one has to face it, but if they do, there is a way to get rid of it and, potentially, save the encrypted files at the same time. Our research team has analyzed this threat, and all findings are represented in the report. We discuss the distribution and the activity of this infection, as well as the removal process. If you are only interested in deleting Havoc Ransomware, you can move to the last section of the report to learn more about that.
There is a YouTube video created by the author of Havoc Ransomware that explains this infection. It is stated that the malware was created to see how hard it was to code the malicious ransomware file. Although the video does not discuss the creation of the infection, it explains how it works. Obviously, we cannot really discuss the distribution of this infection simply because it is not being distributed at this moment. If we believe the author – who is represented by the name "BinaryEmperor" via the ransom note – this infection will not be spread at all, but we have to consider all possibilities. In most cases, ransomware is spread via corrupted spam emails. Hakunamatata Ransomware, Erebus Ransomware, and plenty of other threats analyzed on our website are spread in this way. Other methods of distribution exist as well. In general, if a ransomware is discovered, it is a good idea to scan the operating system to check for other infections that could be active as well. Obviously, if they exist, immediate removal is crucial.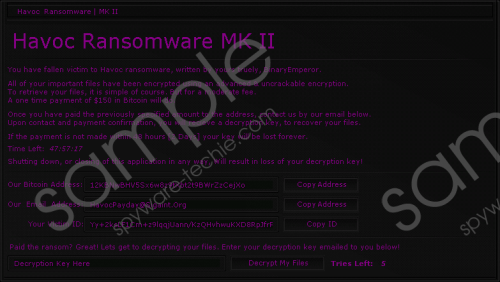 Havoc Ransomware screenshot
Scroll down for full removal instructions
The current version of Havoc Ransomware is only compatible with .NET Framework v4.5, but real ransomware infections are usually more versatile. One of the strengths of this infection is that it is capable of blocking the Task Manager, which, of course, creates problems when disabling malware. It is actually good that the victim of Havoc Ransomware cannot disable the infection because that might create bigger problems. The same goes with restarting the computer. Since the infection does not have a PoE, it cannot be re-launched, and that, in this case, disables the decryption of files. The ransomware is set up in a way that all encrypted files (the infection encrypts files on the Desktop and all subfolders) can be decrypted with a click of a button. Five clicks, to be more precise. The ransom note that is meant to push the victim to pay a ransom of $150 and then confirm it by emailing HavocPayday@Signant.Org displays the "Decrypt My Files" button, and the files are decrypted once this button is clicked five times in a row.
It is hard to discuss an infection that regular users are unlikely to face, but we had to inform you about Havoc Ransomware regardless of the circumstances. This infection might have been created just to showcase the possibilities of ransomware, but it does not mean that it could not be released in the future. Even if that does not happen, think about all other ransomware infections – thousands of them – that could invade your operating system if you open the wrong email attachment or trust the wrong offer. While it is unlikely that you will need to remove Havoc Ransomware, you have to reinforce your system's protection to ensure that you do not need to deal with real ransomware in the future.
Delete Havoc Ransomware
Click the Decrypt My Files button on the ransom note 5 times.
Install a trustworthy malware scanner.
Perform a full system scan just to make sure your PC is clean.
In non-techie terms:
Although Havoc Ransomware is not a real infection per se, it is a perfect example of what could happen if your operating system was infected with a malicious ransomware. Of course, if a real ransomware strikes, it will not give you an easy way out. Instead, it will push you to pay a huge ransom fee after encrypting your personal files. It is unlikely that anyone will ever have to use the removal guide above, but if you need it, here it is. Use the comments section below if you want to discuss this infection further.