Do you know what HappyLyrics is?
HappyLyrics is an adware application which has been designed to display lyrics next to YouTube videos. It sounds like a rather useful browser extension, especially considering the fact that it basically turns YouTube video watching into karaoke sessions. Nevertheless, there are certain security issues related with HappyLyrics, and if you want to protect your system from various threats, it is necessary to remove HappyLyrics from your browser and your computer. This adware program could be easily exploited by third parties to distribute malware, so you need to terminate it before it is too late.
Technically, there is nothing new about HappyLyrics, because there is an entire group of "Lyrics" adware which includes such applications as Lyrics Monkey, Lyrics Fan, Boby Lyrics, Adware.AddLyrics and so on. Therefore, one can expect HappyLyrics to exhibit the same behavior as its other counterparts.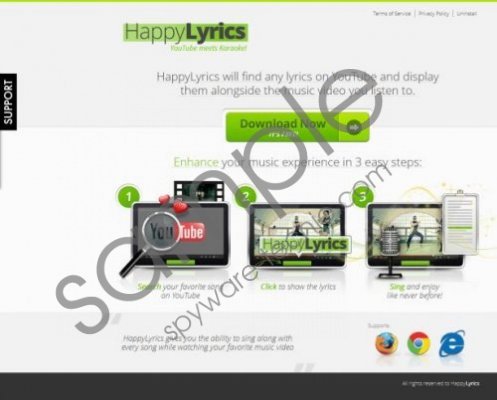 HappyLyrics screenshot
Scroll down for full removal instructions
It is possible to download the application from its official website at happylyrics.co. There you will be greeted with a user-friendly promotional message which says that:
HappyLyrics will find any lyrics on YouTube and display them alongside the music video you listen to.
That is nothing we would have not known before, actually. As well as the fact that HappyLyrics is compatible with Mozilla Firefox, Google Chrome and Internet Explorer browsers. However, although HappyLyrics "gives you the ability to sing along with every song while watching your favorite music video", it still comes with additional functions that are not as alluring.
For example, apart from displaying lyrics next to YouTube videos, HappyLyrics also is responsible for displaying commercial pop-up ads whenever you browse the Internet. All those annoying flash advertisements that appear on your browser's screen are most probably induced by HappyLyrics, but the application does not generate them. The thing is that it makes use of a third party advertising network to collect content for the ads, so they might even be embedded with outgoing links to corrupted websites that distribute malware.
Another thing you need to consider is the fact that HappyLyrics often comes bundled with Conduit toolbars. These browser extensions are classified as potentially unwanted programs, and so the same automatically can be applied to HappyLyrics as well. Thus, it is for the best to uninstall this application and then run a full system scan with SpyHunter free scanner to check for any other unwanted programs that could have been accidentally installed on your PC.
How to remove HappyLyrics
Windows 8
Move mouse cursor to the bottom right corner of your screen.
Click Settings on Charm bar and then go to Control Panel.
Open Uninstall a program and remove HappyLyrics.
Windows Vista & Windows 7
Open Start menu and go to Control Panel.
Click Uninstall a program and remove HappyLyrics.
Windows XP
Open Start menu and click Control Panel.
Select Add or remove programs and uninstall HappyLyrics.
If you need any further assistance with HappyLyrics removal, leave me a comment below.
In non-techie terms:
HappyLyrics is a browser extension that displays lyrics alongside YouTube music videos, but it is also responsible for displaying a lot of commercial advertisements that might expose you to potential malware threats. Therefore, you should remove HappyLyrics from your PC right now.
Aliases: Happy Lyrics.