Do you know what Hades Ads are?
If you are bothered by irritating advertisements, Hades is the advertisement-supported program that you need to keep away from your computer. This adware can expose you to unreliable banner and pop-up advertisements that could easily redirect you to malicious websites or activate scams. If you do not want to become the victim of malware creators and distributors, you will remove Hades from your operating system right away. Note that you can delete Hades Ads only by removing the devious ad-supported program responsible for activating these advertisements. Are you ready to learn how to remove this adware?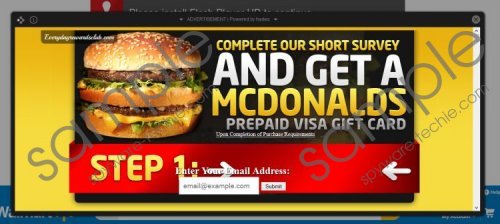 Hades Ads screenshot
Scroll down for full removal instructions
Hades Ads can show up on any website that you visit if the malicious adware manages to slither in. According to the most recent research conducted by our researchers, the installer of this adware is silent, which means that you can install it without even knowing it. Just like the clone application Salus, Hades is distributed bundled with third-party software, which means that there might be a few other unreliable programs that need removal. Note that browser hijackers, other adware, and more serious threats (e.g., keyloggers or fake malware removal software) can be presented in a misleading way. The best thing you can do is install reliable security software. If this is not how you handle your virtual security, you must research the software before installing it onto your PC; otherwise, malware will slither in again. You can install this software right after you remove Hades Ads.
It is most likely that you will have Hades Ads removed after uninstalling the unreliable ad-supported program from your operating system. If you want to check the process, install a malware scanner that will let you know if any leftovers remain active. Needless to say, your virtual identity is not safe until all malicious files are removed. Automatic malware removal software can remove Hades Ads and all other unreliable programs. More importantly, this software can stop malware from entering your PC in the future, which is why we strongly recommend installing it right away.
Delete Hades Ads
Delete from Windows XP:
Open the Start menu and select Control Panel.
Double-click Add or Remove Programs.
Select the undesirable program Hades and click Remove.
Delete from Windows Vista/Windows 7:
Click the Windows button on the Taskbar.
Select Control Panel and move to Uninstall a program.
Right-click the program you wish to remove and click Uninstall.
Delete from Windows 8/Windows 8.1:
Open the Charm bar from the Metro UI and click Search.
Enter Uninstall a program, open the utility, and find Hades.
Right-click the program you wish to remove and click Uninstall.
In non-techie terms:
Hades Ads cannot be trusted, which is why we suggest removing them. Even though you will not win anything by closing the irritating ads one by one, you can eliminate all of them by removing Hades. Follow the instructions below to delete this adware from your Windows operating system, and install an automated malware remover to eliminate adware leftovers and the associated infections.