Do you know what Hacked Ransomware is?
The malicious Hacked Ransomware serves as a tool to extort money from Windows users. This infection preys on vulnerable systems, and if it manages to slither in (usually via spam emails or RDP backdoors), it immediately encrypts files. The encryption algorithm used by this malware is strong, and so you cannot decrypt your files yourself. Legitimate file decryptors are likely to be useless as well. On rare occasions, file decryptors are created to decipher the encryptors used by specific infections, but a tool capable of helping the victims of this ransomware does not exist yet. That means that you can recover files only if they are backed up or if you manage to get a decryption key. Unfortunately, getting this key is impossible. Due to this, we suggest that you delete Hacked Ransomware without further delay.
Ransomware is dominating the world of malware at the moment, and new file-encrypting threats that demand ransoms emerge every single day. Whether you are a victim of Shiva Ransomware, Apollolocker Ransomware, Hacked Ransomware, or any other threat of this kind, the protection of your operating system must be weak. Unfortunately, that can lead to the loss of all of your personal files. The malicious ransomware targets personal files because they are the most valuable, in a sense that they cannot be replaced. Of course, more and more users nowadays back up their files, but if backups do not exist, the victim of Hacked Ransomware has no way of recovering their documents, photos, videos, and other sensitive files. To make it easier for you to spot the files that are compromised, the infection adds the ".hacked" extension to their names. Do not bother removing this extension.
Once the encryption is complete, Hacked Ransomware creates files named "@readme_English.txt" and "How_to_decrypt_files.txt" on the Desktop. Besides that, a file named "hacked.jpg" is created to replace the Desktop wallpaper. The JPG file represents the same message that you can find in the TXT files or the window that is launched from the .exe file of the ransomware. This window is the most important tool for cyber criminals to convince users into paying the ransom because it also includes a timer (you are given three days), a ransom sum (2000 USD), and a "Decrypt" button. If you click this button, you are urged to enter a decryption key that you, allegedly, would get if you paid the ransom. The Hacked Ransomware note instructs you to transfer Bitcoins that are worth 2000 USD to a specific Bitcoin Address and then confirm the payment by emailing payment.hkdecrypt@mail.ru. Although you should get the decryptor via email, that is highly unlikely to happen. And if you enter random license keys, the infection threatens to delete your files.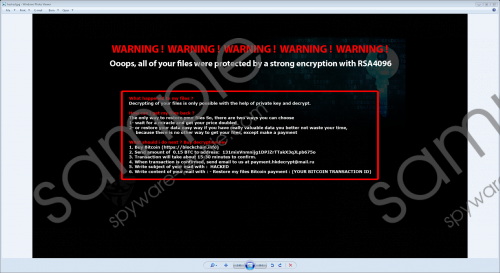 Hacked Ransomware screenshot
Scroll down for full removal instructions
If your personal files are not backed up, there is nothing you can do, but that does not mean that you should pay the ransom. Of course, if losing money is the risk you want to take, go ahead and follow the instructions represented by cyber criminals, but do not be surprised when things do not go as planned. Whether or not your personal files are lost, you must remove Hacked Ransomware from your operating system, and we strongly advise utilizing anti-malware software. First and foremost, identifying and deleting the ransomware launcher manually can be difficult. Second, you need to take care of your virtual security, and anti-malware software can take care of that.
Delete Hacked Ransomware
Identify the launcher of the ransomware (the location and name of the file are random).
Right-click and Delete the launcher.
Right-click and Delete the files used to deliver random demands:

@readme_English.txt
How_to_decrypt_files.txt
hacked.jpg

Empty Recycle Bin and immediately install a legitimate malware scanner to check for leftovers.
In non-techie terms:
The devious Hacked Ransomware is out there to get your files. Although it cannot steal or delete them, it can encrypt them, which is just as bad. The encryption algorithm used by this threat is strong, and recovering files manually is impossible. Using this, the creator of the ransomware tries to push all victims to pay a ransom of 2000 USD. It is suggested that a decryption key would be offered in return. Of course, it is not, and so paying the ransom is not recommended at all. Instead, you need to remove Hacked Ransomware. While that will not get your files decrypted, that is very important. Another thing that is very important is your operating system's protection. You can solve both issues – the removal of the ransomware and the protection of your virtual security – by installing legitimate anti-malware software. If you do not want to take this route, you will need to delete the threat manually.