Do you know what Guster Ransomware is?
If your all files have received a new filename extension .locked and you see a window with a ransom note, Guster Ransomware is the one that should take the blame for having done that. Guster Ransomware is a new file-encrypting infection that locks files by changing original extensions of files to its own extension. In order to inform users that files have been encrypted and tell them how to unlock data, it opens a window with a ransom note. It locks Desktop, i.e. it does not allow users to access programs, files, or use the computer normally. Fortunately, this ransomware infection does not create a point of execution (PoE), so the screen-locking window will not be placed on Desktop again after the system restart. Even though you could access your Desktop and use PC after restarting your computer, you should not let Guster Ransomware stay on your computer because it might encrypt new files you create one more time. Also, it is very likely that it will not stop connecting to the Internet from time to time without permission. Since this infection does not make important modifications on the infected computer, i.e. it does not apply changes in the system registry, our researchers believe that many users will be able to get rid of this threat themselves. Of course, the manual removal instructions (find them below this article) prepared by our team of specialists will help people to do that.
Before going to delete Guster Ransomware, let's find out how it acts. As research has shown, it locks files it finds in the %USERPROFILE% directory and its subfolders immediately after it successfully enters the computer. All these files receive a new extension .locked. On top of that, a window locking Desktop with a ransom note is opened to users. It is said there that users have to pay 0.4 Bitcoin (~ 370 USD) and then write an email with their IDs to nucklearsupport@yandex.ru to get the key to unlock files. Unfortunately, users are only given 48 hours to do that, so you do not have much time for consideration. You are the one you can decide whether or not to send money to cyber criminals but keep in mind that our team of experienced specialists does not recommend doing that because they have noticed that people often receive nothing after sending money.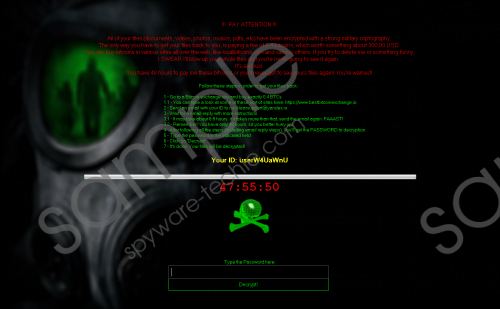 Guster Ransomware screenshot
Scroll down for full removal instructions
If you make a decision not to send money to cyber crooks, it does not necessarily mean that it will be impossible to unlock files. Yes, it will not be easy because the AES-256 encryption algorithm is used; however, you should not give up too soon. In some cases, experts specializing in the field of cyber security develop free decryption tools. Of course, you will have to wait for it to be released. Alternatively, users can go to restore their files from their backups. If such a backup has never been created, unfortunately, it will be impossible to recover files from a backup. In this case, your only hope is a free decryptor that should be developed sooner or later.
Guster Ransomware is distributed just like other ransomware infections, e.g. Roga Ransomware and Payday Ransomware. Research has revealed that this threat is spread as an attachment in spam emails. In other words, this file-encrypting infection sneaks onto the computer when a spam email attachment is opened. It is usually not very easy to prevent malicious applications from slithering onto the computer. Of course, you should ignore spam emails, but there are no guarantees that you will be safe. Therefore, security specialists highly recommend installing a reputable security application to protect the system from harm.
Your files will not be unlocked, but you should still go to delete Guster Ransomware fully. If you decide to get rid of it manually, you need to kill the malicious process or restart your PC to remove the screen-locking window and then delete the malicious file launched. If you cannot find this file on your PC or simply wish to remove malicious software from your computer quicker, you should use an automatic malware remover. SpyHunter will clean your system in the blink of an eye.
Delete Guster Ransomware
Reboot your PC OR open the Task Manager (press Ctrl+Shift+Esc and open the Processes tab) and kill the malicious process.
Find the malicious file you have launched before finding your files encrypted.
Delete it.
In non-techie terms:
Some users think that a ransomware infection cannot encrypt files again if it has already done its job, so they do not hurry to erase these threats from their PCs, especially if they can use their computers and perform daily activities, but it is not true at all. If the malicious file of the ransomware infection is launched, it might encrypt the personal data again. Also, other malicious applications might easily enter the system with the help of a threat already existing on the computer. Therefore, hurry to eliminate a ransomware infection if you have already encountered it.