Do you know what GusLocker Ransomware is?
If you believe that nothing bad can happen if you open spam emails, you have GusLocker Ransomware to think about. This file-encrypting infection is one of the many threats that could be sent to you via email, and if the message tricks you into opening the attached file, game is over. Unless you recognize the infection and remove it instantaneously, it is unlikely that you will be able to delete GusLocker Ransomware before it encrypts your personal files. The data of the file is changed during the encryption, and that is why it becomes unreadable. That does not mean that the file is completely lost. In fact, it should be possible to decrypt files with the right decryption key, but it is in the hands of the cyber criminal who created the infection, and they can do whatever they want with it.
Right after execution, GusLocker Ransomware starts encrypting files. It can encrypt files anywhere, but it specifically avoids folders whose names include these strings: All Users, Intel, Program Files, Program Files (x86), Windows, and Windows.old. Everywhere else, it can encrypt all kinds of files, including .mp3, .avi, .doc, .jpg, and even .exe. That means that not only your personal files are at risk. Besides encrypting photos, documents, and videos, the ransomware can also encrypt application launchers. The infection could even encrypt files that belong to security and malware removal software. When files are encrypted, a unique extension is added to their names. Depending on the version of the malicious GusLocker Ransomware, this extension could be ".bip" or ".GUSv2." Do not bother deleting this extension because that will not help you with anything.
GusLocker Ransomware not only encrypts files but also creates them. The two different versions of the infection that we analyzed created files named "Information.html" and "DECRYPT.html." A RUN key is added in the Windows Registry to ensure that the file is opened whenever you restart your computer. These files should also be created in all folders that contain encrypted files. The message inside displays a unique code and an email address (5btc@protonmail.com) to which the code is meant to be sent. According to the message, if you do this and then pay "some bitcoins" (the ransom), you will be able to retrieve your personal files. The message also warns against decrypting files manually. Unfortunately, if you pay the ransom, it is highly unlikely that you will obtain a decryptor and free your files. Therefore, instead of wasting your money, we suggest you focus on removing GusLocker Ransomware.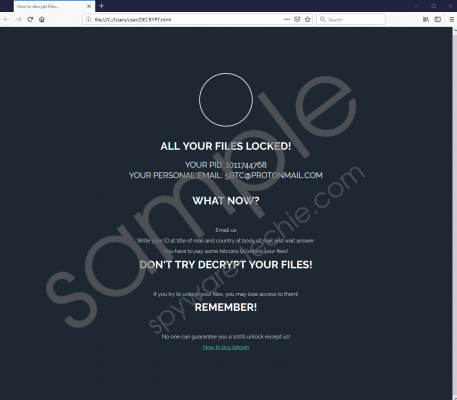 GusLocker Ransomware screenshot
Scroll down for full removal instructions
Do not panic if you do not know what to do with malware and how to delete it because you do not need to do it all on your own. You can install anti-malware software to have GusLocker Ransomware removed automatically. Another option, of course, is to eliminate the threat manually but because the launcher could be anywhere, less experienced users are not advised to go with this option. After all, you can definitely benefit from the protection a reliable anti-malware program can provide you with. As long as it is installed on your operating system, you will not need to worry about the invasion of other threats.
Delete GusLocker Ransomware
Delete the ransom note file (Information.html or DECRYPT.html).
Delete the malicious launcher of the ransomware. You might find it here:

%USERPROFILE%\Desktop
%USERPROFILE%\Downloads
%TEMP%

Launch Registry Editor (tap Win+R to launch the RUN dialog and enter regedit.exe).
Navigate to HKCU\Software\Microsoft\Windows\CurrentVersion\Run.
Delete the value named inf (the value data should point to the ransom note file).
Empty Recycle Bin.
Install and run a legitimate malware scanner to check if your system is now clean.
In non-techie terms:
GusLocker Ransomware is a file-encryptor. If it finds a way in, it encrypts files in no time. Unfortunately, the encryption algorithm used by this malware is too complicated to crack. That means that file decryption is not possible. That being said, the creator of the infection offers to decrypt files if you pay the ransom. Should you follow their instructions? You should not if you do not want to waste your money. Hopefully, files are backed up, and you can rely on your backup copies. If you need them on your PC, remove GusLocker Ransomware and then transfer the backups onto it. When it comes to removal, you might be able to eliminate the threat manually, but we suggest utilizing an anti-malware program. It will automatically erase existing threats and it will also help you ensure that your operating system is guarded against malware 24/7.