Do you know what Guardbox is?
Guardbox is a potentially unwanted program that is associated with the Guard-Search.com search engine, and it could be affiliated with browser hijackers. The program itself is promoted as a security tool that should enhance your online safety, but, whether you like it or not, the program may also arrive in software bundles with a list of potential security threats. Thus, if you happen to have Guardbox on your computer, it would be in your best interests to remove the application at once. Scroll down to the bottom of this description for the manual removal instructions, and do not hesitate to leave us a comment if you have any further questions about computer security.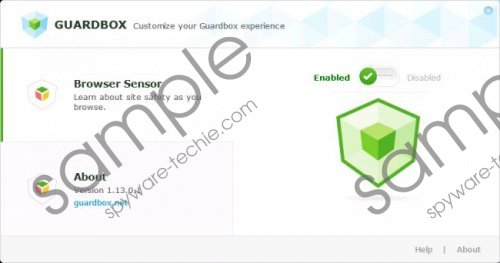 Guardbox screenshot
Scroll down for full removal instructions
When you open guardbox.net, which is the official website for Guardbox, you can see that the program is presented as a "security application that gives you peace of mind." The program is supposed to guard you against "cyber threats like malware, phishing, and fraud, allowing you to browse safer and smarter." Who would not want to have something like this on her computer? So, technically, one should be able to download Guardbox from the official site, especially if the program is as good as it claims to be, right? Alas, that is very far from the truth because the download button at the official page does not seem to work. It only redirects us to an FTP server, and we are asked to enter log in credentials a password to access the .exe file.
Since the primary distribution source does not work, it is of no surprise that the program gets installed on target computers mostly via software packages. The guys at our research lab say that it usually comes bundled with Guard-Search.com hijacker and other potentially corrupted installers. What's more, even if you do not install a browser hijacker on your computer, Guardbox might add an extension to your browser that would eventually modify your default homepage to Guard-Search.com. To put it simply, this program may not be your worst nightmare, but it has multiple features that should not be tolerated, especially if you want to protect your PC from harm.
Aside from performing some unsolicited modifications, Guardbox may also collect information about your browsing habits and even show commercial ads. Here is an extract from the program's EULA to support the argument:
YOU EXPRESSLY AGREE THAT YOUR USE OF THE SOFTWARE, INCLUDING ANY THIRD PARTY COMPONENTS, IS AT YOUR SOLE RISK AND RESPONSIBILITY. <…> FURTHERMORE, WE DO NOT WARRANT, ENDORSE OR GUARANTEE ANY CONTENT, PRODUCT, OR SERVICE THAT IS FEATURED OR ADVERTISED ON OR THROUGH THE SOFTWARE OR THIRD PARTY COMPONENTS.
This means that Guardbox is not responsible for any potential damage you may experience if you are redirected to a third-party website through its ads. The program is just a mere tool of promotion that can be used by virtually anyone. This means that the application is rather vulnerable to third-party exploitation, and its disadvantages outweigh the advantages.
You should not wait any longer and remove Guardbox today. Although it IS possible to uninstall the application through Control Panel, it leaves quite a few leftovers in your system. You should take care of that by investing in an automated software removal tool that would ensure your PC is safeguarded against similar uninvited guests.
How to Delete Guardbox
Windows 10
Enter Control Panel in the Search bar on your Taskbar.
Hit Enter and open Control Panel.
Go to Uninstall a program and remove Guardbox.
Windows 8 & Windows 8.1
Move the mouse cursor to the lower right corner of your screen.
Click Settings on the Charm bar and open Control Panel.
Select Uninstall a program and remove Guardbox.
Windows Vista & Windows 7
Click the Start menu and go to Control Panel.
Open Uninstall a program and remove Guardbox.
Windows XP
Open the Start menu and navigate to Control Panel.
Access Add or remove programs and uninstall Guardbox.
In non-techie terms:
Guardbox is supposed to be a useful program that protects you from various malicious exploitations online. However, the program itself is a potentially unwanted piece of software because it is associated with a number of computer security threats. Any security-minded user would want to get rid of Guardbox immediately, and this is exactly what you should do. Removal all the unwanted programs right now to avoid undesirable consequences.