Do you know what Grupo de Delitos Telemáticos Virus is?
The malicious ransomware Grupo de Delitos Telemáticos Virus targets Windows users living in Spain, and you should take all of the security measures to keep this particular threat away from your personal system. It is too late to implement authentic spyware detection and removal tools if your desktop has already been paralyzed by a misleading notification allegedly provided by the Spanish Police. This is the main symptom signaling that you need to remove Grupo de Delitos Telemáticos Virus from the operating system as soon as possible.
Please see an excerpt from the misleading notification which will show up on the screen as soon as the devious, clandestine ransomware is activated by the Urausy Trojan:
¡ATENCIÓN! Su ordenador personal ha sido bloqueado por razones de seguridad vistos los motivos abajo detallados.
Usted está acusado de mirar/conservar y/o divulgar los materiales pornográficos del contenido prohibido (Pornografía infatil/Zoofilia/Violación etc.). [...]
El monto de su multa es de €100 euros.
La multa puede ser pagada con PaySafeCard o Ukash vouchers.
It has been discovered that schemers behind the Urausy Trojan may target different countries with malign ransomware infections which are presented in specific languages. Some of the most recent versions include Computer Incident Response Center Luxembourg Virus, New Zealand E-Crime Lab Virus and Centre for Critical Infrastructure Protection (CCIP) Virus. Please make sure that you remove these infections if they have taken over your personal Windows system.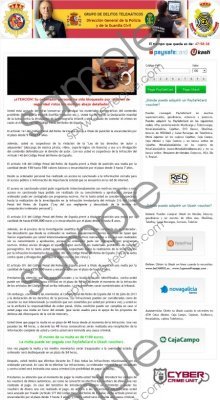 Grupo de Delitos Telemáticos Virus screenshot
Scroll down for full removal instructions
Without a doubt, the accusations presented within the notification are completely bogus, and so you need to pay no attention to the demands to pay a fine of €100. If you were caught distributing pornography, spreading malware, performing mass spam email attacks or any other similar activity, you would be contacted by the Police, Europol, Interpol, Cyber Crime Unit and other illegally listed organizations in person. Needless to say, you also would not be asked to pay fines via Ukash, Paysafecard or any other unreliable services. Note that some spyware researchers even refer to the infection as the Ukash Virus because of this.
We strongly recommend having Grupo de Delitos Telemáticos Virus deleted from the operating Windows system with the assistance of automatic spyware removal software. If you employ reliable and effective tools (e.g. SpyHunter) the malicious Trojan will be deleted in no time, and your Windows system will gain reliable, full-time protection against future schemers' attacks.
Delete Grupo de Delitos Telemáticos Virus
Delete from Windows XP:
Firstly restart the PC.
As soon as the BIOS screen disappears start tapping F8.
Select Safe Mode with Networking using arrow keys and tap Enter.
Click YES on the 'Windows is running in safe mode' notification.
Download an automatic spyware removal tool from http://www.spyware-techie.com/download-sph .
Click the Start menu icon on the left of the Task Bar.
Launch RUN, enter msconfig and click OK.
Click the Startup tab, un-check all listed items (or Disable All) and then click OK.
Restart the PC in a normal manner.
Install the downloaded tool, scan the computer and remove the ransomware.
Delete from Windows Vista or Windows 7:
Restart the PC and wait for BIOS to load. Then immediately start tapping F8.
Using arrow keys on the keyboard select Safe Mode with Networking. Tap Enter.
Download and install SpyHunter which will find and delete all of the malicious computer infections.
Delete from Windows 8:
In the Metro UI start screen click the Internet browser tile.
Visit http://www.spyware-techie.com/download-sph and download SpyHunter.
Immediately install the application to remove all of the running threats.
In non-techie terms:
It is important that you remove Grupo de Delitos Telemáticos Virus from the PC. This will help you regain access to the desktop, eliminate the possibility of illegal activity, malware distribution or even data theft. Use the step-by-step guides above to install automatic spyware removal software to have the infection deleted.
Aliases: Grupo Telemáticos Virus.