Do you know what Gpaa Ransomware is?
If you are suddenly presented with a window saying "Congradulations! Now you are a member of GPAA(Global Poverty Aid Agency)" then you should know that your PC was infected with Gpaa Ransomware, a program that encrypts files and then claims to ask you to send some Bitcoins to help poor children in African countries. Removing this program is crucial, and it would be best if your computer has not been infected with it because there is no free decryption tool available yet. Do not be fooled — all of the money you send will end up in the pockets of cyber criminals. In this article, we will discuss how this program works, how it is distributed and how you can get rid of it and protect your computer from similar malware in the future.
As soon as this ransomware starts running on your PC, it will kill explorer.exe so that you would not be able to use your PC. Gpaa Ransomware was designed to encrypt your files with a RSA-4096 encryption algorithm with a 4096 key size. This algorithm ensures a strong encryption and, therefore, it is very difficult to crack. Nevertheless, a free decryption tool can be created, so if you do not want to pay the hefty ransom, then you should wait till such a tool is created. This particular ransomware was configured to encrypt many file types such as .3g2, .3gp, .xlw, .xml, .zip, .jpeg, .jpg, .js, .vsdx, .wav, and .wb2, among others. Furthermore, this ransomware was set to append the encrypted files with a ".cerber6" file and also change the original names of the files so you that you could not tell which is which.
Once the encryption is complete, this ransomware drops a ransom note in each folder where a file was encrypted. The ransom note is named !READ.htm. The note contains information on how to pay the ransom, but it does not call it that blatantly. The note says "Congradulations! Now you are a member of GPAA(Global Poverty Aid Agency)." The note goes on to say that "We need bitcoins,our crowdfunding goal is to get 1000 BTCs. 1 BTC for 1 CHILD!" Apparently, the developers of Gpaa Ransomware exploit the poverty and misfortunes of others to extract money from you. They say that that 1 Bitcoin (an approximate 2,544 USD) will go to poor children in Nigeria. However, it is just a scam, and those kids will not see a dime of that money. The ransom note wants you to pay from 2.36 to 2.89 BTC for a decryption tool to recover your files. The payment varies and will change each time you boot up your PC. Naturally, the ransom note also contains the Bitcoin wallet address to send the ransom.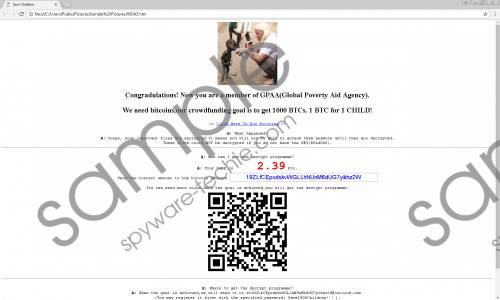 Gpaa Ransomware screenshot
Scroll down for full removal instructions
Now let us talk how this ransomware is disseminated. Malware analysts say that there are two methods used to distribute Gpaa Ransomware. They have found that its developers use Remote Desktop Protocol (RDP) used to provide users with a graphical interface to connect to another computer via a network connection. Another more widely used method is email spam. Researchers say that this ransomware is set via by email as an attached file and if you open it, then this ransomware will end up on your PC and start doing its dirty work. Therefore, you should exercise caution when opening emails from unknown, suspicious senders.
That is all of the information currently available on this ransomware. Without a doubt, it is one dangerous computer infection that is set to encrypt your files and demand money under the guise of humanitarian aims. You should not comply with the developers as you may not receive the decryption key. If you have decided to remove Gpaa Ransomware, then we advise using SpyHunter's free scanner to detect the location of the ransomware, and then go to that location and delete the ransomware manually.
Removal Guide
Visit http://www.spyware-techie.com/download-sph
Download SpyHunter-Installer.exe and install it.
Run it.
Click Scan Computer Now!
Copy the file path of the malware from the scan results.
Press Win+E keys.
Type the file path of the malware in File Explorer's address box.
Press Enter.
Locate and right-click the malicious file(s) and click Delete.
Empty the Recycle Bin.
In non-techie terms:
Gpaa Ransomware is a typical ransomware-type computer infection whose purpose is to encrypt your files and then demand you pay a ransom in Bitcoins to recover your files. The sum asked of you to pay is quite high, so it may be not worth your files. Furthermore, you may not receive the decryption tool once you have paid. Therefore, we recommend that you remove this ransomware using the guide above.