Do you know what Gotoinstall.ru is?
If you ever discover a program that goes by the name of Gotoinstall.ru, make sure to avoid it at all times. We recommend doing so because the dubious application in question is known to act in an intrusive manner. After its in-depth analysis, our malware experts have classified it as one more browser hijacker. Like any other program of this category, it is known to make invasive changes to your browser's default settings without any notification or authorization. It goes without saying that such functionality will have a profoundly negative effect on the way you experience the Internet on a daily basis. If that was not enough, you must also know that in some situations the hijacker in question might prove to be quite dangerous as it could expose your operating system to harmful online content. For further information about all of that, make sure to read our article. Below, we also provide a detailed removal guide that will help your remove Gotoinstall.ru once and for all.
Gotoinstall.ru acts as soon as it enters your operating system. Its overall functionality is quite similar to other hijackers that are active nowadays. The major change that this devious application induces is of your default homepage, about which you are not notified in any way. This alteration will have a significantly negative effect on the way you experience the web even though it might not seem like it at first. The most annoying thing in regards to having this invasive browser hijacker is the fact that once your homepage is altered, you will no longer have a choice but to start your online session on a suspicious third-party website whether you like that or not. It goes without saying that surfing the web the way you are used to will be virtually impossible, to put it lightly. What contributes to even more annoyance and frustration is the fact that the site set as your new homepage does not provide any valuable features, to put it lightly. You might encounter annoying and invasive ads on it, which could cause even more annoyance while you are online. It is also important to note that the search filed on a dubious site does not work in the best way. That is so because it can provide you with a large number of sponsored results instead of useful ones. To surf the web the way you like once again, you must restore your browser's default settings, and to do that you need to delete Gotoinstall.ru once and for all. Do so by using the detailed instructions that we provide below.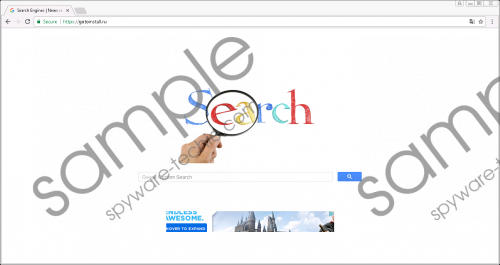 Gotoinstall.ru screenshot
Scroll down for full removal instructions
Since Gotoinstall.ru does not have an official website that hosts a direct download link, it is safe to assume that the invasive application is spread via bundled installers. Such setup files are notorious because they often are full of questionable software. Thus, if you already have the hijacker in question active on your PC, make sure to check your entire operating system for other suspicious applications. What is more concerning is the fact that by using a questionable search box on a dubious site set as your homepage, you might subject your operating system to suspicious and even malicious web content. That could happen because some results might host redirect links leading to devious sites created by cyber crooks. Even though such results do not occur often, coming across one remains a possibility that could have devastating outcomes. For instance, you could end up on a site that runs an arbitrary code execution exploit, and just entering it could be just enough to infect your PC with some unknown malware. It should be quite obvious that Gotoinstall.ru is not a program that should be active on your PC since it could prove to be a major virtual security threat. Make sure to remove it without any hesitation.
Do not take any chances with Gotoinstall.ru and execute its complete removal as soon as it is found active on your personal computer. Make use of the detailed instructions that we provide below to terminate this browser hijacker once and for all. Once you are done with the instructions that we provide below, make sure to conduct an analysis of your operating system for any traces related to Gotoinstall.ru. It is essential to do so because the leftovers might be used to restore the devious program in question. In other situations, those traces might be enough for Gotoinstall.ru to continue its intrusive functionality. By performing such research, you will be sure that the removal process has been successful.
How to remove Gotoinstall.ru from your PC
Google Chrome
Start your web browser.
Click the Menu button.
Select Settings.
Click Advanced.
Select Reset.
Click the Reset button.
Mozilla Firefox
Launch your web browser.
Select the Menu button.
Click the question mark icon at the bottom.
Select Troubleshooting Information and then click Refresh Firefox.
Click Refresh Firefox again.
Internet Explorer
Open your web browser.
Click the Menu button.
Select Internet Options.
Click the Advanced tab.
Select Reset.
Check Delete personal setting.
Click the Reset button and select Close.
In non-techie terms:
A complete removal of Gotoinstall.ru is crucial for your overall virtual security. If you happen to find manual removal and analysis of your PC a bit too complicated, do not worry. Malware researchers at our internal labs have crafted an alternative removal guide. By following the instructions that we present below you will be able to remove Gotoinstall.ru in a fully automated manner.