Do you know what Gotofindit.com is?
If you use Google Chrome, Internet Explorer, or Firefox, you might become the next target of the suspicious Gotofindit.com. This search provider does not look malicious, but it has a terrible reputation because users find it installed without permission. Do you know how we classify search tools that take over browsers in an illegal manner? We call them browser hijackers. Needless to say, all hijackers require removal, and the illegal entrance is not the only reason for that. Unfortunately, most hijackers have hidden agenda, and, if you do not delete Gotofindit.com in time, you might encounter serious security issues. If you wish to learn more about this, we advise reading this report and referring to the removal instructions provided.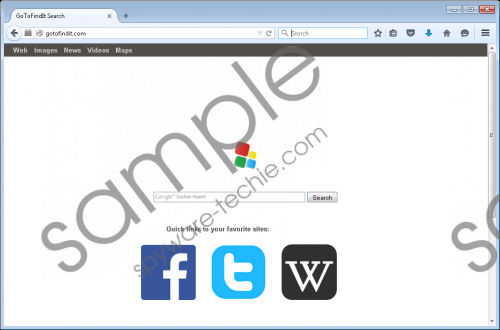 Gotofindit.com screenshot
Scroll down for full removal instructions
GoToFindIt Search is not a useful search provider simply because it is not a search provider at all. This tool was created to promote links to third-party websites, as well as to showcase sponsored links. While the quick links to facebook.com, tiwtter.com, and wikipedia.com are clearly meant to route you to third-party sites, the search tools are more clandestine. The bar at the top of Gotofindit.com is meant to help you choose what kind of data you wish to research. Surprisingly, only the Web tool is somewhat associated with Gotofindit.com. If you click this tool and enter keywords, you will be routed to Google Custom Search, and you are wrong if you think that this is the same as Google Search. This search tool may have been set up by Google, but the search results you see are modified by Gotofindit.com to show sponsored links. If you do not want to encounter potentially misleading links and useless ads, you should remove Gotofindit.com ASAP. These are the reasons you should remove Findwide hijacker as well, which is practically identical to Gotofindit.
Although the services of Gotofindit.com might seem useful, we strongly recommend deleting this search provider from your browsers, especially if it was installed without your permission. There are many more reliable and useful search tools that can help you browse the web in an efficient manner. Of course, unless you install reliable security software that could block access to malicious sites, even the most reliable search tools could be exploited by cyber criminals. If you need to remove Gotofindit.com-related software that travels bundled with this hijacker, you can trust reliable security software to delete it automatically. The guide below shows how to delete Gotofindit.com by restoring your browsers.
Delete Gotofindit.com from browsers
Delete from Mozilla Firefox
Simultaneously tap Alt+H.
Click Troubleshooting Information.
Navigate to Give Firefox a tune up.
Click Refresh Firefox.
Confirm and restart Firefox.
Delete from Google Chrome
Simultaneously tap Alt+F.
Select Settings and scroll down.
Click Show advanced settings.
Click Reset settings (at the bottom).
Confirm and restart Chrome.
Delete from Internet Explorer
Simultaneously tap Alt+T.
Select Internet options.
Click the Advanced tab.
Click Reset.
Conform and restart IE.
In non-techie terms:
Gotofindit.com looks like a search tool, but it acts more as an advertising tool that provides links to popular third-party sites. While this is not something you need to worry about, you certainly need to be cautious about the search results shown to you via the Google Custom Search. This search tool, despite the credentials used, is controlled by the creators of Gotofindit Search, and it might show unreliable links and advertisements. The best thing you can do is restore your browsers to delete Gotofindit.com and install a legitimate security tool to remove the remaining computer infections.