Do you know what GoSaveNow is?
GoSaveNow is a browser extension which can be employed by the users of Firefox, Chrome and Internet Explorer browsers. The application is promoted at gosavenow.info; however, we do not recommend paying too much attention to the information presented on the site. Even though officially the program promises you to find beneficial deals for your online shopping, we would not recommend you to delete GoSaveNow from the PC if it was authentic and trustworthy. We advise getting rid of the application because it is supported by unfamiliar parties and because it presents different deals and offers using truly suspicious advertising servers. Luckily, the removal of the program is not that complicated.
If you believe that the program has been installed onto the operating system without permission, there is a great chance that it was installed packaged with other software. Have you installed any suspicious programs onto the operating system recently? If you have, you might expect them to have installed the suspicious GoSaveNow alongside. We recommend that you delete adware and remove any associated programs, especially the ones which may have been installed onto the PC using the installers promoted by "Ads by Gosavenow" and "This ad brought to you by Gosavenow" type of advertisements. You must be cautious when interacting with these ads. In fact, you should not do that at all because you may face virtual scams. If you do not want to be tricked into downloading fake software, purchasing useless services, or employing worthless deals, we recommend GoSaveNow removal.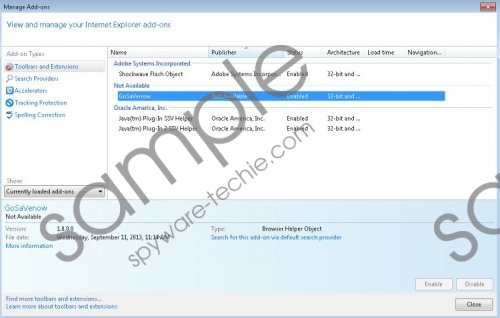 GoSaveNow screenshot
Scroll down for full removal instructions
You must be careful with the removal of any suspicious program; however, you have to be extra vigilant with the removal of GoSaveNow. If you are not cautious, more disturbing programs may show up, including NextCoup and other advertisement-supported software. If you choose to follow the manual removal instructions below, make sure you read the 'Are you sure?' message carefully. If you click Yes, thinking that you confirm GoSaveNow removal, you will actually agree to install the so-called alternate browser extensions. If you click No, you will delete the undesirable program. To avoid the messy removal, install authentic security software that will delete the disturbing app automatically.
N.B. If you run IE, it will be enough to uninstall the undesirable program; however, Chrome and Firefox users must perform the additionally presented removal steps.
Delete GoSaveNow
Delete from Windows 8:
Right-click on the background of the Metro UI menu and select All apps.
Select Control Panel to access a new menu and click Uninstall a program.
Now right-click the application you want to remove and select Uninstall.
Delete from Windows Vista & Windows 7:
Open the Start menu (click Windows icon on Taskbar) and click Control Panel.
Move to Uninstall a program and locate all undesirable applications.
Right-click the application you want to remove from the PC and select Uninstall.
Delete from Windows XP:
Navigate to the Taskbar and click the Start button located on the left.
Select Control Panel and then double-click Add or Remove Programs.
Remove the undesirable application from the operating system.
Delete from Mozilla Firefox:
Open Firefox and simultaneously tap Ctrl+Shift+A.
In the opened Add-ons Manager menu click Extensions.
Find and Remove the undesirable browser extension.
Delete from Google Chrome:
Open Chrome and simultaneously tap Alt+F to open a menu.
Select Tools and click Extensions to find the list of available add-ons.
Click the recycle bin placed next to GoSaveNow and choose Remove.
In non-techie terms:
We recommend that you delete GoSaveNow from the Windows operating system and the affected browsers to eliminate the disturbing advertisements which are bound to show up. Use automatic malware removal software if you want to get rid of the program quickly, or follow the manual removal instructions presented above.