Do you know what Goqrench.net is?
Goqrench.net is a website that imitates Google, a legitimate search provider. Even though it shares similarities with this decent search engine, it cannot be called a reputable tool for searching the web by any means. Instead, specialists call it a browser hijacker because it can show up on all users' web browsers (it works on Internet Explorer, Google Chrome, and Mozilla Firefox) without their knowledge. That is, it hijacks browsers by changing their settings. It should change only a homepage, but you might also find it in the place of your default search tool. Do not let it stay even though it, at first glance, seems to be a perfectly decent search tool because it is not what it claims to be, we can assure you. Such search tools as Goqrench.net are not developed by companies seeking to improve the users' web searching experience. Instead, they are developed to work as tools for disseminating commercial advertisements and promoting certain pages. Is it worth keeping such a search tool set on browsers? The answer is "no" because such dubious search tools have considerably more drawbacks than advantages. Let's discuss how Goqrench.net acts in the next paragraph.
A new URL Goqrench.net set as a homepage and, in some cases, a default search tool indicates that a browser hijacker has successfully entered the system. At first glance, it might seem that the search provider set on browsers is a legitimate search tool, but the truth is that it is not. Yes, it has an interface of a powerful search tool, but it does not mean that using it for searching the web is a good idea. It is because it might display the modified search results to users. That is, some of the search results you will be provided with will act like sponsored links. They might redirect you straight to third-party pages with no information you are looking for. You might even get redirected to a page with untrustworthy software if you click on these modified search results you see because they might open any website, and, of course, you will not be told what kind of website is going to be opened for you in advance. It is one of the main reasons Goqrench.net should be removed from browsers and replaced with a more trustworthy search tool. Unfortunately, it is only one of several existing reasons.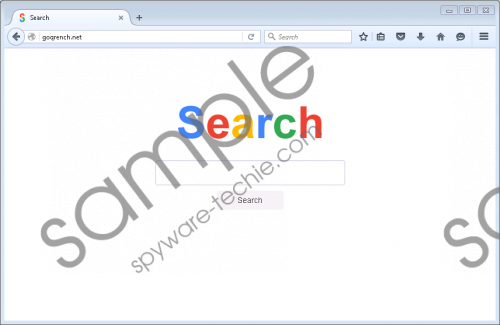 Goqrench.net screenshot
Scroll down for full removal instructions
Our experienced specialists do not think that users can fully trust Goqrench.net also because it might collect information about them. Unfortunately, it is hard to say what types of information it is going to record because it does not provide the Privacy Policy document to users, which immediately makes it a suspicious tool. According to our experienced specialists, it should be primarily interested in the non-personally identifiable information, e.g. search queries, links users click, websites they frequently visit, and technical details about users' machines; however, it might record submitted personal details too, for example, your search queries containing personal details might be recorded by Goqrench.net as well. Then, this gathered information might be shared with partners, advertisers, and other companies developing software. This is where all the privacy-related problems lie. You cannot change activities this search tool performs on victims' computers, but you can stop it from acting like this by getting rid of it. You must remove Goqrench.net from browsers also if you wish to start using a new search tool.
One of the easiest ways to remove Goqrench.net from web browsers is to reset browsers to default settings one by one. Alternatively, the same can be done using an automated malware remover. In this case, you will only need to launch the scanner. Do not use your old security tool to remove the undesirable search tool from browsers because it seems to be untrustworthy since it has allowed a browser hijacker to sneak onto the system unnoticed.
How to delete Goqrench.net
Internet Explorer
Open Internet Explorer and press Alt+T.
Select Internet Options from the Tools menu.
Click on the Advanced tab.
Click Reset.
Check the box next to Delete personal settings.
Click Reset to have your browser reset to its default settings.
Mozilla Firefox
Launch Mozilla Firefox and tap Alt+H.
Select Troubleshooting information from the Help menu.
Click on the Refresh Firefox button located at the top-right part of the window.
Click Refresh Firefox one more time.
Google Chrome
Double-click on the shortcut of Google Chrome.
Open its menu by tapping Alt+F simultaneously.
Click Settings.
Go down until you see Show advanced settings and click it.
Click Reset settings.
Click the Reset button.
In non-techie terms:
Goqrench.net is not what it seems to be. That is, it is not a legitimate search tool even though it is promoted as one. Specialists better know it as a browser hijacker rather than a legitimate search engine because it changes all browsers' settings after successfully infiltrating the computer. It is only one of several reasons this URL cannot be called a reputable search engine, so remove it from your web browsers without consideration today.