Do you know what Googlescan.ru is?
In this report, we are going to talk about a particular search tool called Googlescan.ru. As you may have noticed it yourself the application might display slightly different search results from the ones shown by Google.com while using same keywords. Our researchers explain the difference might occur because Googlescan.ru uses a Custom Google Search engine that could be modified by the tool's creators. The bad news is its modified results could show you suspicious content from the software's third-party partners, for example, pop-up ads, banners, etc. Apparently, there is a chance some of these advertisements could take you to web pages that might be unreliable, so any interaction with them might be possibly risky. We will talk more about this later in the article; thus, we recommend reading it if you wish to know more about this application or scroll below and use the provided removal guide if you want to eliminate it.
Researchers who tested Googlescan.ru believe users might come across it accidentally. For instance, you might receive it while interacting with unreliable advertisements or websites. Another possible distribution channel is bundled software installers. In other words, the search engine might be suggested on another program's installer. In such case, users should be able to deselect it, although you could easily overlook it if you rush the installation process. Therefore, if you have no idea how this search engine managed to settle in, you probably got it with another application. To avoid such mistakes the next time, we advise users to select advanced installation settings once they launch the setup file and read all the given terms. This way you should have a chance to see what additional software is being suggested and deselect it if it is unwanted.
Furthermore, as we researched the application we learned that the server Googlescan.ru is hosted on contains other questionable programs (e.g. adware) and web pages created to scam users. The fact this search engine is hosted on such a server does not make it look reliable. Nor does the absence of the Privacy Policy and End User License Agreement documents. These documents should be provided on Googlescan.ru, so its users would be able to learn who created the application, how it may work, what kind of information it can gather or how it could be used, and some other important information. Because of this we also do not know if the search tool's creators take any responsibility for the third party content the application might be promoting or from where such ads may come from.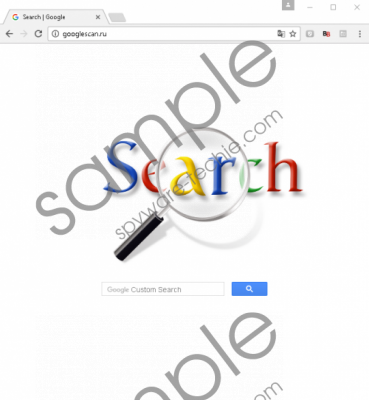 Googlescan.ru screenshot
Scroll down for full removal instructions
Under such circumstances, we would advise our readers to stay away from suspicious ads if they are displayed while using this questionable search tool. The reason we recommend not to take any chances with them is because some of them could be unreliable, for example, they might encourage you to install more untrustworthy applications or redirect you to possibly malicious sites. We cannot say what the chances to come across such content are, but as there are more reliable search providers like google.com, yahoo.com, or other, we doubt it is worth to keep this unreliable tool and take any chances with it. For users who think the same, we would advise erasing this search engine without any hesitation.
One way to delete Googlescan.ru is to reset the browser it affected. The process is not complicated, but if you need any assistance with this task, you could follow the removal guide we added below at the end of this report. If you prefer removing the tool with automatic features, we advise you to use a reputable antimalware tool. It could locate and erase the unwanted application automatically. Plus, at the same time, it could detect other possible threats and so help you clean up the system.
Get rid of Googlescan.ru
Internet Explorer
Press Alt+X after you open the browser.
Go to Internet Options.
Select the Advanced tab and click Reset.
Mark Delete personal settings and press Reset again.
Click Close.
Mozilla Firefox
Launch the browser and select the Help icon.
Choose Troubleshooting information.
Click Refresh Firefox once the new tab opens.
Then press Refresh Firefox again and select Finish.
Google Chrome
Open Google Chrome and click Alt+F.
Navigate to Settings and slide down.
Choose Show advanced settings.
Scroll down again and click Reset Settings.
Select Reset.
In non-techie terms:
Googlescan.ru may look similar to google.com, but the results you receive while using it might be not the same. Our researchers say this application could show various third-party advertisements that may not be necessarily reliable, for example, they might redirect you to questionable pages, which could distribute possibly malicious content. Thus, we would not recommend using it if you do not want to take any chances. To get rid of it manually, you should reset the affected browser as it is shown in the removal guide added above this text. Users who are willing to acquire a legitimate antimalware tool could eliminate it automatically too; all there is to do is to perform a system scan and click the deletion button.