Do you know what Google Survey Scam is?
If you see pop-ups claiming that you have a chance to get iPhone X or another expensive item, it is very likely that you have encountered Google Survey Scam, so do not get happy too early. There are several possible reasons why you have encountered this scam. First, you could have opened an untrustworthy page that redirected you further to a dubious domain containing fake pop-ups. Also, you could have clicked on some kind of untrustworthy link. Finally, you might see pop-ups with fake messages on your screen if there is an advertising-supported application (adware) installed on your system. If you see them because you have opened a dubious website/got redirected to it against your will, you will no longer find pop-ups on your screen after you close your web browser and do not open previously-visited pages again. If the reason you have encountered Google Survey Scam is the presence of an untrustworthy application, you will need to remove it to get rid of all those annoying pop-ups that are displayed to you from time to time. We cannot promise that it will be very easy to clean the system because any adware program might generate those pop-ups. Since there is no information about it available, it might not be easy to discover it on the system and delete it.
Google Survey Scam first redirects users to http://yourlink.online/iphone-en2/?device=generic%20web%20browser%20Desktop&isp=%20usa%20ab&aref=http%3A%2F%2Frnpol.adsb4trk.com%2Fsite%2Fredirectpage%3Fsid%3D69143%26hv%3Dszmoq5a7c46df4dd77310606966%26hid%3D325556#b and then they are taken further to https://organizejobs.net/r/iphonex18/?transaction_id=6-82-d0322932-063d-49cc-9604-cc0c4f6bc86a&sub_id=41549&c3=pub&c2=kimia&c1=kUS25FT309H5K010034M18NC803K4GWF0TPC0QMc8fJV00GU017H800 which displays pop-ups. This happens so quickly that users do not even notice when all these redirections take place. They only notice pop-ups on their screens. Users are told that they can get an expensive item, such as iPhone X, for free by simply providing certain personal details, e.g. name, surname, address, postal code, city, and email. Undoubtedly, this is a tempting offer, but it is not a good idea to enter personal details, believe us, because they might end up in cyber criminals' hands. Once they get the personally-identifiable information, they might sell it on the black market or use it for various fraudulent purposes. We are sure you do not want this to happen, so we do not allow you to provide any personal details. Just close the pop-up you see instead. If it reappears, this suggests that you will get rid of Google Survey Scam only by erasing untrustworthy software from your computer. As has been mentioned previously, it must be some kind of advertising-supported application.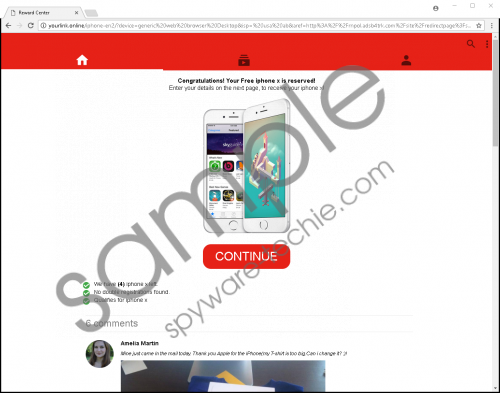 Google Survey Scam screenshot
Scroll down for full removal instructions
Adware programs do not differ much from other untrustworthy applications the way they are distributed. Specialists say that they are often spread bundled with free applications, but they might find a different way to enter users' computers too. On top of that, users might download these programs from the web themselves. Of course, they do not know that they click the Download button to get an untrustworthy application. No matter how adware has entered your system, you must erase it if it turns out that you have it installed on your PC. Once you get rid of it, take care of your system's safety because similar untrustworthy software might infiltrate your computer again in the future. Our security specialists highly recommend installing security software on the system. Make sure it gets all updates and keep it active 24/7 if you do not want to discover new undesirable programs on your PC anytime soon.
There are two ways to get rid of Google Survey Scam. If you have encountered it because you have landed on an untrustworthy website or have been redirected to it, it might be enough to close the web browser you use to make the irritating pop-up gone from your screen. If it does not appear to you again, you do not need to do anything else; however, if it is reopened, this might be a sign that an ad-supported program is active on your computer. You need to find and erase it to get rid of Google Survey Scam. If you cannot find it anywhere, you should use an automated antimalware scanner to delete all active untrustworthy applications.
How to get rid of Google Survey Scam
Remove an adware program
Windows XP
Click Start.
Select Control Panel.
Click Add or Remove Programs.
Select untrustworthy software and click Remove.
Windows 7/Vista/8/8.1/10
Tap Win+R.
Type Control Panel and click OK.
Click Uninstall a program.
Select untrustworthy software and click Uninstall.
Reset web browsers to default settings
Internet Explorer
Open Internet Explorer.
Press Alt+T and click Internet Options.
Click Advanced.
Click Reset.
Check the box you will see next to Delete personal settings.
Click Reset.
Mozilla Firefox
Launch Mozilla Firefox.
Go to the Help menu (tap Alt+H).
Click Troubleshooting information.
Find Refresh Firefox at the top of the page and click this button.
Google Chrome
Open Google Chrome.
Press Alt+F.
Click Settings.
Go to the bottom of the page.
Click Advanced.
Click Reset.
In non-techie terms:
Google Survey Scam will try to convince you that you can get a free expensive item, e.g. iPhone X if you simply provide personal details. Needless to say, it is not true, so do not enter any personally-identifiable details. If you provide them, they might be sold on the black market and then might be used by cyber criminals for malicious purposes. Of course, they will use them without your knowledge and permission.