Do you know what Goofed Ransomware is?
Goofed Ransomware, also known as Goofed HT Ransomware, is one of the newest ransomware infections developed on the HiddenTear, which is an open-source ransomware infection, engine. Just like the original infection, it also targets users' files. Specifically speaking, it locks them all for a chance to get money from users. You will be asked to send a ransom worth of $100 to the Bitcoin address left for you too if you ever encounter Goofed Ransomware, but you should definitely not send money to malicious software developers because they will not hesitate to take your money, but you might still not get anything from them. To put it differently, there are no guarantees that you could decrypt those affected files if you pay the required money. Because of this, you should focus on the Goofed Ransomware removal rather than the payment you are asked to make. HiddenTear-based ransomware infections are not very sophisticated threats, so their removal is usually not very complicated. As for Goofed Ransomware, it should be enough to delete suspicious recently downloaded files too to eliminate it from the system.
The inability to access files with .txt, .xls, .ppt, .pptx, .jpg, .png, .sql, .sln, .php, .asp, .html, .xml, and .psd extensions can mean only one thing – Goofed Ransomware has already infiltrated your computer and encrypted the most valuable files in the %USERPROFILE% directory. The ransomware infection also informs users what has happened to their files by dropping a ransom note YOU_DONE_GOOFED.txt. It should be noted that this .txt file is placed in %USERPROFILE%\Desktop\test, which suggests that Goofed Ransomware is still in development or has been released by cyber criminals for testing purposes. The ransom note dropped explains how users can decrypt their files. First, they need to send $100 in Bitcoin to cyber criminals behind this infection. Then, they need to send an email to hiddentear@protonmail.com. We cannot promise that you will get the decryptor from the Goofed Ransomware developer, so we cannot let you send it your money. Of course, you are the one who can make decisions here, but you need to understand that you risk losing your money next to personal data too. A free decryptor was not available at the time of writing, but it might be developed by IT specialists one day, so you should delete Goofed Ransomware from your PC right away, but do not hurry to delete those encrypted files from the system – you might have a chance to unlock them in the future.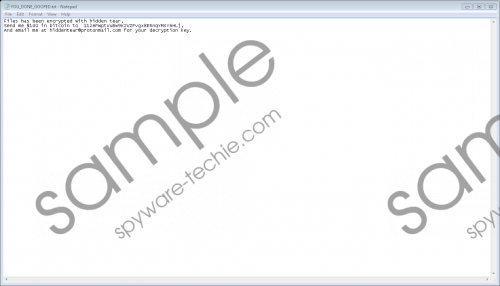 Goofed Ransomware screenshot
Scroll down for full removal instructions
We do not think that you have installed Goofed Ransomware on your computer willingly because ransomware infections tend to enter users' computers without their knowledge. For example, you could have allowed crypto-malware to enter your PC by simply opening a malicious attachment from any spam email. Researchers say that the launcher of Goofed Ransomware might look like an ordinary PDF file to trick users into opening it. This also suggests that it might become quite a prevalent infection. Ransomware infections are not the only threats that are spread via spam emails as attachments, so we would like that you stay away from all spam emails. You should also not open those emails sent to you by the people you do not know. On top of that, it would be smart to enable security software on the system so that it would be possible to avoid even the sneakiest threats. Install such a tool on your computer only after the Goofed Ransomware removal because it might encrypt it too.
You cannot keep Goofed Ransomware active on your system because you might launch it again accidentally and get more files encrypted. There is only one tiny thing you need to do to disable it – remove all suspicious files in order to delete the malicious file launched. If you want to be sure that you have deleted it from your system, you can use an automated malware remover instead. With its help, you will clean your system in no time.
How to delete Goofed Ransomware
Press Win+E to open Explorer.
Delete all suspicious recently downloaded files (we recommend checking %USERPROFILE%\Desktop and %USERPROFILE%\Downloads first).
Delete YOU_DONE_GOOFED.txt from the test folder located in %USERPROFILE%\Desktop (the chances are high that you will not have this folder and thus will not see this file).
Empty Recycle bin.
In non-techie terms:
Goofed Ransomware has been developed so that cyber criminals could easily obtain money from users. Because of this, the first thing this infection performs on victims' computers is the encryption of personal files. They will all be marked by the .goofed extension, and it will no longer be possible to open them. Just like similar threats, Goofed Ransomware wants users' money, but victims should go to delete it from their computers right away instead.