Do you know what Good-search.ml is?
Good-search.ml is a page you might find set on your web browsers out of the blue. Since it applies changes to users' web browsers without permission, our team of researchers has decided to categorize it as a browser hijacker. If you have Internet Explorer, Mozilla Firefox, and Google Chrome browsers installed on your computer, it is very likely that it has affected all of them. In most cases, Good-search.ml is set as a homepage, but we would not be surprised at all if you find it in the place of your default search tool as well. If you are reading this article because you have already found the undesirable changes applied, you should know that Good-search.ml is not an ordinary search provider that can be trusted even though it does look like a legitimate search tool at first glance. As a consequence, the sooner you get rid of it, the better. Browser hijackers usually cannot be removed through Control Panel like normal applications, so do not expect to find an uninstaller of the Good-search.ml browser hijacker either. Do not worry; we know a way to get rid of it. Continue reading to find more about it.
Good-search.ml has been active since the 3rd of March, 2018, so it is not a prevalent threat yet. Of course, it does not mean that it cannot show up on your browser one day. Our researchers have thoroughly analyzed Good-search.ml to find out how it acts, and it has turned out that it uses Google Custom Search. At the time of research, it did not show any modified search results, but it does not mean that it cannot start displaying them one day. It is not very likely that you will recognize all modified search results, meaning that you will click on them sooner or later if you continue using Good-search.ml as your default search provider. These modified search results are not considered something very malicious, but you should still ignore all of them because they might redirect you straight to untrustworthy websites. In the worst-case scenario, you might even be taken to websites promoting bad software. On top of that, according to specialists, it is very likely that Good-search.ml will record all your search queries and some other information. Keep in mind that these recorded details might be disclosed to third parties, so you should not enter anything personal in its search box. Of course, it would be best to stop using Good-search.ml completely.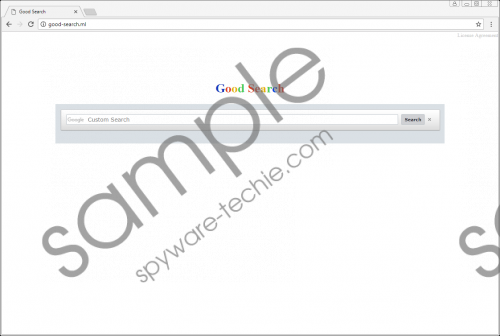 Good-search.ml screenshot
Scroll down for full removal instructions
Judging from the number of users who visit Good-search.ml, this browser hijacker spreads in India, Egypt, Pakistan, Italy, and Indonesia. Of course, it does not mean that users living in other countries are safe – they might still encounter this infection. It is still unclear how it is distributed, but it should not differ much from older browser hijackers, specialists say. That is, it should also be distributed bundled with other programs, according to them. It is possible to prevent such infections from entering the system by installing software more carefully. Unfortunately, the majority of users skip installation steps quickly and do not read any information provided to them, especially if it is written in small letters, so they do not even notice that undesirable software will be installed on their computers too. If you are not going to become more cautious, or you do not consider yourself an experienced user that can prevent malware from entering the system alone, you should install security software on your system. As long as you keep it enabled, malware could not slither onto your computer unnoticed. That is, you will be safe 24/7.
If you already see Good-search.ml when you launch your browser, it means that the browser hijacker has already hijacked it. This time you will get rid of it by resetting your web browser to default, but it might not be so easy to do that the next time, so do not keep your system unprotected!
Delete Good-search.ml
Internet Explorer
Open Internet Explorer and tap Alt+T.
Click Internet Options.
Click Advanced.
Click Reset.
Mark the Delete personal settings box.
Click Reset.
Mozilla Firefox
Launch Mozilla Firefox.
Press Alt+H.
Click Troubleshooting information.
Click Refresh Firefox at the top.
Google Chrome
Start Google Chrome.
Access its menu by pressing Alt+F simultaneously.
Click Settings.
Open the rest of the menu by clicking Advanced.
Click Reset.
In non-techie terms:
Good-search.ml is not a trustworthy search provider. Instead, it is known to be a browser hijacker because it changes settings of users' browsers without their knowledge. Specialists do not recommend using it. They consider it unreliable not only because it applies changes without permission, but also because it might present users with the so-called modified search results. Once it is removed, you could set a new homepage/search tool of your choice.