Do you know what Goinf.ru is?
Goinf.ru is just another search engine that was probably forced on your web browser when you installed a software bundle. This search engine is not malicious per se, but it does promote some shady websites that you should not visit. If you think that Goinf.ru is not that bad, we suggest that you read the full article and reassess your position regarding this search engine. If you want to remove it please follow the guide provided below.
First of all, it is a Russian search engine that has been tailored for the Russian-speaking diaspora. If you do not speak Russian, then you definitely have no use for it. In any case, we found that Goinf.ru is usually bundled with Currency Calc which is digitally signed by Ivan Malygin, a software developer based in Moscow. It is program that our researchers have deemed potentially unwanted, because it does not work as claimed. Currency Calc uses the Nullsoft Install System installer, which might also offer you to change your homepage to Goinf.ru. Currency Calc has a lot of variants, so not all of them feature Goinf.ru. It must also be said that this search engine and its accompanying program can be bundled with other Russian software. So we are almost certain that the only way you have got this search engine is by downloading free software from Russian shareware websites.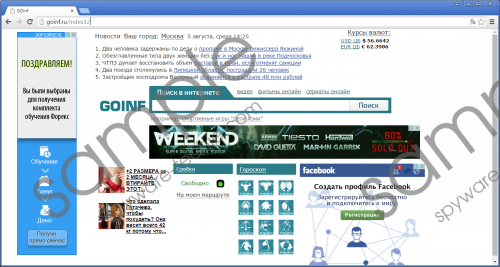 Goinf.ru screenshot
Scroll down for full removal instructions
Let us talk about the search engine itself. Goinf.ru can be called a fake search engine, because it redirects all of its searches to Go.mail.ru, which is a quite a popular search engine in Russia. It appears that Goinf.ru has no added value. It is likely that its developers get paid by Go.mail.ru to redirect people to their search engine, generate web traffic, and by extension, generate advertising revenue. Goinf.ru itself features a number of advertisements that redirect to rather shady website that we recommend avoiding. This search engine features banners, coupons, and promotional links, so there is no doubt that its main purpose is to make money. As mentioned, some of these links are unreliable, so you might get redirected to phishing websites. In addition, Goinf.ru itself is used to collect information about you with the help of browser cookies. This information might be sold or used for advertising and marketing purposes. So some ads might be based on your browsing preferences.
So, as you can see, Goinf.ru's main purpose is to generate revenue for its owners. It does not have anything unique to offer to you, since everything is just links to third-party websites. So if you installed this search engine on purpose and you want to get rid off but do not know how, please consult the removal guide below. We also recommend scanning your computer with an antimalware application to remove any tracking cookies.
Remove Goinf.ru-affiliated programs from Windows
Windows 7 & Vista
Click Start.
Select Control Panel.
Click Uninstall a program.
Locate Goinf.ru and right-click on it.
Click Uninstall.
Windows 8 & 8.1
Open the Start Screen.
Type Uninstall in the search box and then go to Settings.
In the search results, go to Uninstall a program.
Locate Goinf.ru and right-click on it.
Click Uninstall.
Windows XP
Open the Start menu.
Click Control Panel.
Select Add or Remove Programs.
Locate the program and click Remove.
Change your browser's homepage
Microsoft Internet Explorer
Press Alt+T and click Internet Options.
Enter a new homepage address.
Click OK.
Done.
Mozilla Firefox
Press Alt+T and click Options.
Enter a new homepage address.
Done.
Google Chrome
Press Alt+F.
Find the On Startup list and select Set pages.
Enter a new homepage address and click OK.
Done.
In non-techie terms:
Goinf.ru is a search engine that is distributed with a potentially unwanted program called Currency Calc. This search engine is not malicious, but it really has no use, because all it does is redirects you to another search engine. It also displays unreliable third-party advertisements, and collects information about your browsing habits that might be sold for profit. You probably did not want this search engine in the first place so you can remove it manually using our instructions or using a capable antimalware application.