Do you know what GoGameGo is?
Potentially Unwanted Programs commonly known as PUPs are usually executable applications, but in some cases browser extensions also get classified as PUPs as well. GoGameGo is one such extension, and you might want to remove it after learning that it is not all that useful. In fact, it is the opposite of that. This extension for Google Chrome serves as a vehicle for a search engine called Mysearch.com set to subject you to commercial advertisements of unknown origin, but not before its extension changes your browser's homepage to its address. You may be inclined to use it for your daily searches which is a mistake because you cannot know which search results are legitimate.
The installation of GoGameGo will result in your browser's homepage being changed to a modified version of Mysearch.com. Note that the modifications are the result of the extension's interaction with Mysearch.com. As a result, your new search page will feature links to game and music-related websites whose links are presented at the top of the web page. However, these links will not grant you free use of services that are paid, so having this extension does not benefit you in any way. Thus, all this extension can give you are bookmarks to its promoted websites.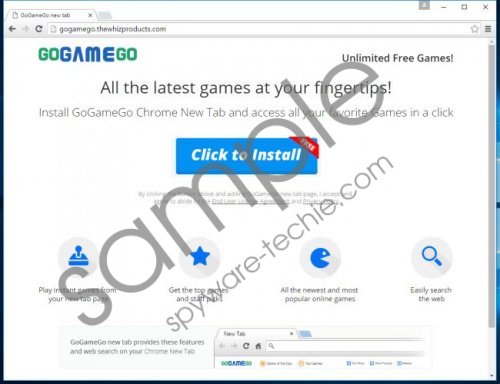 GoGameGo screenshot
Scroll down for full removal instructions
Speaking of promotions, promoting is an essential part of GoGameGo's functionality. In fact, this extension's sole purpose is to serve as a means for distributing Mysearch.com. While this search engine can be used for searching the web for information, we must warn you that its search results are likely to feature promotional links, usually placed at the top and on the right side of the page. Now, most search engines feature ads, but Mysearch.com is not most search engines. Its promotional links may come from unreliable sources, and malicious content may not be filtered out. Therefore, we regard this search engine as unreliable, and we do not recommend that you use it.
Another important issue we want to cover is this extension's privacy matters. Our analysts have found that this browser extension can collect information about you. It can obtain both personal and anonymous information. The privacy policy does not say whether personal information is collected automatically, but it can collect information such as your name, email address, and telephone number. GoGameGo may gather information from your computer and, according to the privacy policy, it can include your "IP address, browser type and language, access times, the content of any undeleted cookies that your browser previously accepted form us (see "Cookies" below), software installed upon and/or devices connected to your computer and/or device, and the referring website address." The collected information is used for many things, but we find it interesting that it uses it for "perform research and analysis about your use of, or interest in, our products, services, or content, or products, services or content" as stated in the privacy policy. All in all, it seems that the information is used to improve GoGameGo's functionality, but have you asked for this?
Our security analysts have discovered that this application is distributed using two methods. Its primary dissemination method is various freeware websites that include it in freeware bundles, and you can install this PUP accidentally if you do not uncheck its installation. They also found that this program's main distribution website Gogamego.thewhizproducts.com is promoted via ads supplied by ad-supported applications. As a result, this application has proved to be quite popular in places such as India and the US.
Both GoGameGo and Mysearch.com are products of APN, LLC. It is a company known for releasing untrustworthy applications, such as LifeStyle New Tab, LifeStyle New Tab, and TuneJunkies New Tab. So this developer has built a reputation of questionability. APN (Ask Partner Network) makes money from online advertising, so its programs have little to no value, and the same applies to this extension. Therefore, we suggest that you remove using our instructions.
How to remove the add-on from Google Chrome
Simultaneously press Alt+F.
Open More tools.
Select Extensions.
Find the extension.
Click the Remove button.
In non-techie terms:
GoGameGo is a browser extension for Google Chrome that has been classified as a potentially unwanted program by our researchers because its proclaimed functions are next to useless. Also, this application can collect information about you. Furthermore, it features a search engine that promotes shady websites in its search results. All in all, this is a package you do not want to have, so we recommend that you delete this program.