Do you know what Godra Ransomware is?
Godra Ransomware is a new malicious application released by cyber criminals who focus on the money extortion. Since this threat uses the Croatian language, our specialists suspect that it primarily targets users speaking this language. Unfortunately, we cannot promise that those users who do not know a single word in Croatian cannot find this infection on their computers one day. Even though Godra Ransomware is considered a new threat, it does not differ much from older infections. That is, it also wants users' money, so it mercilessly encrypts files stored on these affected computers. If your files have already been locked too, and you are sure that Godra Ransomware is the one responsible for doing this, you should not pay money for the decryption of these locked files because all cyber criminals want from you is your money, so they might decide not to send you the tool that can decrypt files after they achieve their main goal, i.e. extract money from you. To be honest, there is a possibility that they do not even have a decryptor. It does not matter that your files have already been locked and you are not going to pay a cent to crooks, you still need to delete the ransomware infection fully from your computer. No, Godra Ransomware cannot launch automatically and then continue performing malicious activities on victims' computers; however, users themselves might open the malicious file and thus launch it again. In such a case, the ransomware infection will not miss a chance to lock all new files.
There are hundreds of ransomware infections that can lock users' personal files available on the market, but Godra Ransomware is the one that has infiltrated your computer if you not only cannot open a bunch of your files, including pictures, documents, videos, music, and more, but also see .gorda, a new filename extension, appended to all of them. If Godra Ransomware is the one that has entered your system and locked your files, you will also find a new .log file on your computer – KAKO OTKLJUČATI VAŠE DATOTEKE.log. This threat demands 2000 EUR in exchange for the tool that can decrypt files for you, but you should definitely not make a payment even if you can afford it. First, you should not pay a cent because the chances are high that it will still be impossible to unlock these encrypted files. Second, you should never send money to malicious software developers because they will continue developing and releasing new harmful threats with the intention of getting even more money from users. We do not know what your final decision will be, but we are sure that you must erase Godra Ransomware from the system no matter you decide to pay a ransom or not.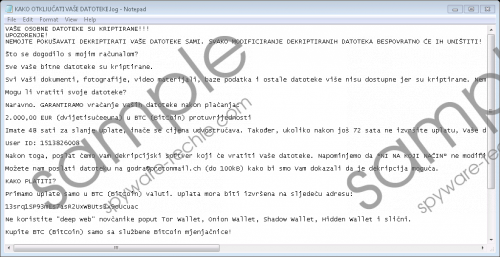 Godra Ransomware screenshot
Scroll down for full removal instructions
Ransomware infections belong to the group of threats that illegally enter users' computers and then immediately start performing their malicious activities. As you already know, they go to encrypt users' personal files because they have been designed to help crooks obtain money from users; however, what you, most probably, do not even suspect is that users are the ones who allow these malicious applications to enter their computers. Of course, they do not do that consciously. According to our security specialists, the majority of users end up with ransomware infections because they are too curious. For example, they go to open attachments found in emails sent by unknown people/companies. Also, some of them download software from the web just to try it. There are many threats pretending to be beneficial applications, so you should not only ignore all suspicious emails you get, especially if they are filtered to the Spam folder, but also be very careful with new software downloaded from the Internet.
You do not need to do much to erase Godra Ransomware from your system because it is not one of those malicious applications that create new registry keys, drop additional files, or create new processes. Your only task is to eliminate the launcher of this threat. Its name can be totally random, so it would be smart to erase all recently downloaded suspicious files.
Delete Godra Ransomware
Tap Win+E.
Check all directories listed below and remove suspicious files from them:
%USERPROFILE%\Downloads
%USERPROFILE%\Desktop
%TEMP%
Remove the ransom note (KAKO OTKLJUČATI VAŠE DATOTEKE.log) dropped by Godra Ransomware.
Empty Trash.
In non-techie terms:
Godra Ransomware is a harmful malicious application that is distributed so that cyber criminals could obtain money from users easier. As a consequence, it encrypts files on victims' computers right away following the successful infiltration. Then, it demands a ransom. It goes without saying that users should not support cyber criminals willingly, especially when there are no guarantees that they could unlock their files when the money is transferred. In any event, the ransomware infection cannot be left active on the system.