Do you know what Go.paradiskus.com is?
Go.paradiskus.com is a browser hijacker that affects all major browsers. This program changes browser settings and then monitors your online activity. Although it is a rather intrusive application, it is still rather far from a genuine malware infection. Hence, it is not hard to remove Go.paradiskus.com from your system manually. You should focus on deleting this browser hijacker right now. It is not complicated to terminate the unwanted program manually, so all you have to do is follow the removal instructions below. For more questions, please feel free to leave us a comment below this description.
This browser hijacker may have several ways to reach your computer, but for the most part, it comes bundled with the PdfPro100 application. The application can be downloaded from pdfpro100.com. Here you might wonder why a genuine application would offer you something unreliable or unfamiliar. The thing is that freeware apps are often bundled with additional features and services that users often do not need. The good news is that you can often choose to avoid installing the unnecessary features. The bad news is that users fail to do that because there is a big tendency to simply skim through the installation towards the Finish line.
If you downloaded PdfPro100 from its official website, you will set the program up via its official installer. When you go through the steps, you will get to a part which says that PDF Pro 100 is ready to install, and the installer will also inform you about Paradiskus. Here is what it says about the service:
We are proud to introduce you with "Paradiskus", A powerful web, images and video search alternative with an up-to-date auto complete solution that bring the most relevant results in no time.
Then, under the Terms of Use, you will find a box that says "I agree to set my search settings to Paradiskus." Therefore, it is not possible to say that Go.paradiskus.com performs browser settings modifications behind your back. You can also un-check the box to avoid these changes, but if you simply click "Next" on the installation wizard, you clearly miss your chance to do so. Consequently, the next time you open your browser, Go.paradiskus.com is already there.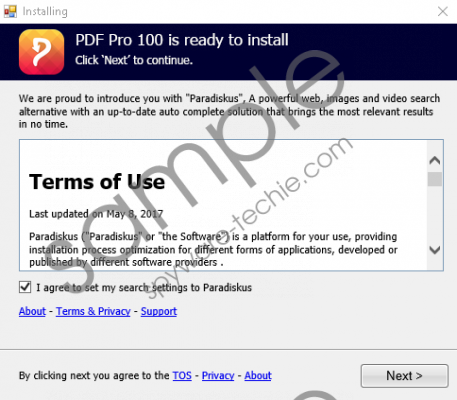 Go.paradiskus.com screenshot
Scroll down for full removal instructions
Aside from coming with PdfPro 100, the browser hijacker may also come bundled with other applications. It is hard to pinpoint which programs exactly you should be careful about, but if you download apps from file-sharing websites, there is always a chance that they could come with certain apps that you neither need nor want. That is why security experts recommend avoiding downloading programs from third-party sources. As well as checking the installation wizard carefully step by step. It might not seem much, but by reading what the wizard has to tell you, you could avoid a lot of unnecessary trouble.
Now that Go.paradiskus.com is on your system, what does it do? As you must have noticed already, this hijacker changes your default search settings, your homepage, and your new tab settings. The modifications affect Chrome, Firefox, and Internet Explorer. With the new settings in place, this program can monitor your online activity, logging the search keywords you use and the websites you frequent. It should also be pointed out that most of your search queries will be redirected to modified Yahoo! Search results. It means that Go.paradiskus.com does not offer you an original search service. It merely makes use of an established search provider, to make it seem as though it can give you the search results you want.
It goes without saying that such browser settings modifications are annoying, and Go.paradiskus.com can be deemed to be a rather intrusive application. Thus, you will do yourself a favor if you remove it today. As mentioned, manual removal is not a complicated issue, but if you feel that it is too much of a task for you, you can use an automated antispyware tool to delete the browser hijacker for good. If you do that, you will also be able to run a full system scan and locate other undesirable applications that might have been installed on your PC over time. It is important to ensure that your system is safe and clean.
How to Remove Go.paradiskus.com
Press Win+R and type %AppData%. Click OK.
Delete the AppSync folder from the directory.
Reset Chrome
Press Alt+F and click Settings.
Scroll down and click Advanced.
Scroll down again and click Reset.
Press Reset to confirm.
Reset Internet Explorer
Press Alt+T and click Internet options.
Open the Advanced tab and click Reset.
Select Delete personal settings and press Reset.
Click Close.
Reset Firefox
Press Alt+H and click Troubleshooting information.
Click Refresh Firefox at the top right of the new tab.
Click Refresh Firefox again and press Finish.
In non-techie terms:
Go.paradiskus.com is not a dangerous computer infection. It is a random search provider that makes use of a popular search engine to trick you into using it for your web search. It is a very annoying tool that can accidentally expose you to potentially harmful content. It would be for the best to remove Go.paradiskus.com from your system today. When you are done with that, protect your computer from similar intruders in the future.