Do you know what Globososo is?
If you trust Globososo with your Internet Explorer, Mozilla Firefox and Google Chrome web, images, videos and news searches, soon enough you may endanger your own virtual security. It has been discovered that the search engine can be used to display filtered search results and initiate rerouting to various suspicious sites. Even though some unauthorized redirections could be initiated to boost traffic to websites operated upon a pay-per-click system, others could lead you to phishing scams and even spyware infiltration. If you do not wish schemers to attack your personal computer, you should not hesitate about Globososo removal for any longer.
The search engine is available at globososo.com which is administered by Kingtale Technology Inc. If cyber crooks have managed to employ the search engine to act as a malicious browser hijacker, it could filter your search results, modify the home page or the search engine and, of course, interrupt browsing session with unauthorized rerouting to other websites. The potential of this activity is discussed within the License Agreement found at the search engine. Here is an excerpt you should be aware of:
This Web site may contain links to other Web sites which are independent of this Web site. We make no representation or warranty as to the accuracy, value, integrity, completeness or authenticity of the information or opinions contained in any such linked Web site, and any link to another Web site shall not in any manner be construed as an endorsement by us of that Web site, or of the products or services described therein. Furthermore, these links may lead to sites or links that contain offensive and objectionable content or which may contain dangerous computer viruses.
Since the developers of the search engine cannot guard you against potentially misleading and dangerous content, you should not use it. In fact, it would be best to delete Globososo if the website has been set as your default search engine and home page. If you are unaware of how manual spyware removal works, we recommend using legitimate security tools which could delete the application automatically. If you are done with the task and you have scanned the PC with an authentic spyware scanner to make sure that all infections have been removed, you can use the step-by-step instructions below to remove Globososo from your home page and search engine.
How to remove the unwanted search engine/home page?
Delete from Mozilla Firefox:
Launch the browser and simultaneously tap Alt+T.
Select Options and click on the General tab.
Change or remove the URL under Home Page and click OK.
Click the drop-down menu icon placed on the left of the search box (top right corner of the screen).
Select Manage search engines and locate the unwanted search provider.
Click Remove and then OK.
Delete from Internet Explorer:
Launch the browser and simultaneously tap Alt+T.
Select Internet Options, click on the General tab, change the Home Page and click OK.
Tap Alt+T once more and select Manage Add-ons.
Go to Search Providers, click the undesirable option and select Remove. Click Close.
Delete from Google Chrome:
Launch the browser and simultaneously tap Alt+F.
Select Settings and go to On Startup.
Mark Open a specific page or set of pages and click Set pages.
Overwrite or remove the URL of a provided startup page and click OK.
Go to Search and click Manage search engines.
Remove the undesirable search provider by clicking X. Click OK.
In non-techie terms: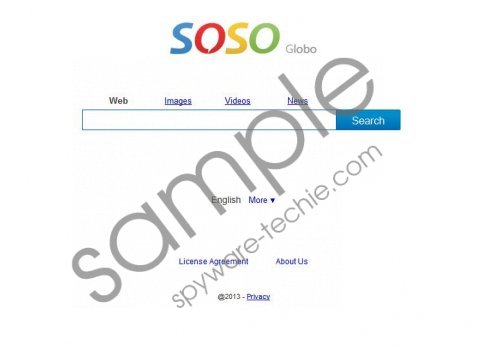 Globososo screenshot
Scroll down for full removal instructions
If you wish to browse your Internet Explorer, Mozilla Firefox and Google Chrome browsers without any virtual security risks, you should remove Globososo search engine if it has been set as your home page or search engine. Note that the browser hijacker should be deleted using automatic removal software because it is a complicated infection.
Aliases: Globososo search.