Do you know what Globalseca.com is?
Globalseca.com is a worthless and potentially dangerous search engine that is promoted by a browser hijacker that sets it as your home page in your browsers without your consent. This hijacker has most likely sneaked onto your system in a bundle that you may have downloaded from a questionable freeware site. You cannot trust this search engine at all, and you also need to be cautious because there may be other malware infections that have arrived with this hijacker. It is possible that you have noticed, for example, annoying third-party advertisements while browsing the web. Any of these infections may introduce you to unsafe third-party content, which could end very badly for you or your operating system. That is why it is important that you remove Globalseca.com and take care of all the related threats as well.
According to our researchers, this browser hijacker is identical to buscarenlaweb.com among others. The only difference can be that the latter one may actually display search results no matter how unreliable they are. Globalseca.com, on the other hand, only seems to be able to come up with the following message: "We apologize for the inconvenience, but we weren't able to find results for this query" even for the possibly most general "shopping" keyword. Instead of useful search results, you may still get so-called "Image results." But, even if this search engine shows anything on its results page, you should know that any link or ad appearing there may be manipulated, i.e., clicking on them may result in redirection to unreliable websites.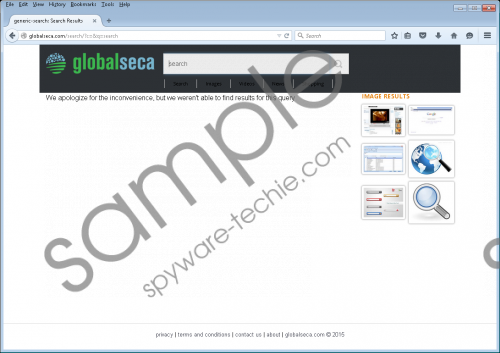 Globalseca.com screenshot
Scroll down for full removal instructions
Visiting questionable websites is always risky because you may be exposed to unsafe and misleading third-party advertisements and links, which may again redirect you to even more dangerous websites. Infecting your computer with more malware programs is the "best" that can come out of such encounters. But it might get even more serious, for instance, if you land on a fake online webshop where you might disclose your banking details to criminals. The only way out of this is to delete Globalseca.com ASAP.
Research has revealed that this browser hijacker mainly enters computers in freeware bundles. But we need to make a clear distinction between "good" and "bad" bundles. Obviously, there are legitimate or "good" bundles that are compiled with a good intention to offer useful third-party tools and applications to computer users. However, this method has been exploited by schemers as well, who see a fruitful opportunity in bundling malware infections together with legitimate free software.
Since lots of users look for free tools and software every day, you can imagine the traffic that hit shareware and even torrent websites. No wonder that more and more suspicious ones started to emerge. These are the ones that mostly host infected or "bad" bundles. If you happen to download and install such a malicious bundle, you may seriously damage your computer. Most probably not right away, but the exposure to criminals and their websites will be there every time you open up your browsers. That is why you should not have second thoughts about deleting Globalseca.com.
Since this browser hijacker has no uninstaller, the easiest thing you can do in order to eliminate this threat source is to restore the home page URL settings in your browsers. Fortunately, Globalseca.com does not change the Target lines of your browser shortcuts; therefore, you do not need to worry that restoring the settings will be in vain. Please use our instructions below if you do not know how to make the necessary changes. Also, do not forget that being careful about the websites you visit and choose for downloading software could help protect your PC. Keep all your drivers and software updated, too, so that criminals have less chance to access your computer.
Remove Globalseca.com from your browsers
Mozilla Firefox
Tap Alt+T and navigate to Options.
Select General on the left.
Press Restore to Default.
Internet Explorer
Tap Alt+T and open Internet options.
Choose the General tab and click Use default.
Press OK.
Google Chrome
Tap Alt+F and choose Settings.
In the On Startup section, click Open a specific page or set of pages.
Click Set pages.
Change the home page URL.
Press OK.
In non-techie terms:
Globalseca.com is a questionable search engine that may be set as your home page in your browsers without your permission; therefore, it has been labeled as a browser hijacker. According to our researchers, this is a totally useless search engine that does not even seem to work currently. But it can still pose a threat if you leave it on your computer, let alone use it to search the web. You may be exposed to third-party ads and sponsored links. If you do not want to risk landing on questionable websites or getting scammed by cyber criminals, you should remove Globalseca.com right now. Do not forget that there may be other threats on board as well. Therefore, we suggest that you download and install a reliable malware removal tool to take control of the malware situation on your PC.