Do you know what Global Updater is?
Global Updater is a potentially unwanted program which searchers for updates and other files in order to help Iminent toolbars work better. However, programs such as Global Updater may also be used to download malware and spyware, which is likely to have adverse consequences. The performance of such programs depends on the plans of the scammers, so we recommend that you pay attention to your online security.
Global Updater is installed alongside toolbars owned and developed by Iminent, which is a company based in Europe with headquarters in Paris. Iminent offers a wide variety of browser extensions that are compatible with Internet Explorer, Google Chrome, and Mozilla Firefox. The fact that you have encountered Global Updater suggests that your browsers contain one of Iminitent toolbars. If you have installed the toolbar by accident and have no intention of using it, you should remove it immediately because this is the only way to get rid of Global Updater.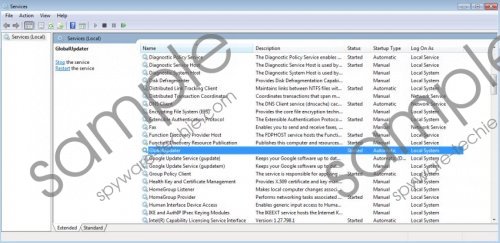 Global Updater screenshot
Scroll down for full removal instructions
The Global Updater program has only one file IMGUpdater.exe located in the %COMMONPROGRAMFILES% directory. The file is signed by SIEN S.A., and the process of the program can be found in the Windows Task Manager. Note that it is not enough to kill the unwanted program because it starts again once you reboot the computer.
It is advisable to remove Iminent toolbars because they are programmed to monitor users' action on the Internet and send the data collected to remote servers. You should take immediate action if you do not remember installing the toolbar. Act right now because some more dangerous program may be running on the operating system. Software can get onto the computer unnoticed in many ways especially if the system is not protected against malware and spyware. It is advisable to pay close attention to every installation process, but a powerful security program should also be present on the PC.
In order to have Global Updater removed from the computer, you have to remove the Iminent toolbar. Below you will find our step-by-step instructions on how to uninstall the unwanted program, but our tem advises you to install a powerful anti-malware program. You want to be protected against browser hijackers, ransomware infections, fake anti-virus programs, and many other malware and spyware threats, so do not hesitate to install a reputable system security program.
How to remove Global Updater
Windows Vista and Windows 7
Click Start.
Select Control Panel.
Click Uninstall a program.
Uninstall the toolbar associated with Global Updater.
Windows 8
Press Win+R and enter control panel.
Click OK.
Select Uninstall a program.
Remove the Iminent toolbar.
Windows XP
Click Start.
Select Control Panel.
Select Add or Remove Programs.
Uninstall the unwanted program.
In non-techie terms:
Global Updater accesses your computer alongside Iminent toolbars, and, if you do not want to use the toolbar, you should remove the toolbar and all associated files. To do so, you should implement a powerful anti-malware program. We recommend using SpyHunter whose scanner you can install with the instructions provided below.