Do you know what Global Gadget is?
It is not the truth that Global Gadget can provide you with beneficial deals and shopping offers. This ad-supported program was primarily created to showcase advertisements for which they are paid money. Of course, some of these ads might be useful, but it is much more likely that you will encounter useless or malicious ads. The worst part is that you will not know you are interacting with misleading offers until you click on them, and this can be very dangerous. One single click on a malicious ad could put your virtual security at risk, which is why you must remove Global Gadget from your operating system. Read the report to figure out which removal method you want to exercise and follow the guide below.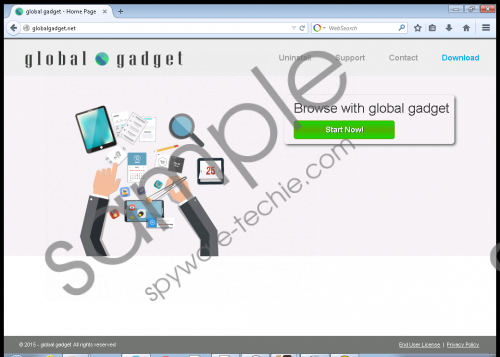 Global Gadget screenshot
Scroll down for full removal instructions
You can find a lot of useful information about Global Gadget at globalgadget.net, but this is not the source of this unreliable program. Instead of distributing this adware in an official manner, its developer, SuperWeb LLC, decided to use the services of third-party software distributors. This is the main reason why computer users usually install Global Gadget without knowing anything about it or the associated programs. Third-party installers will most definitely attach Global Gadget to other programs that are likely to require removal as well. Keep in mind that even though it might be easy to delete Global Gadget, other threats might be much more complex. You should be able to realize that you need to delete this adware as soon as you notice an onslaught of unreliable ads represented with such tags as "Ads by Global Gadget." Note that EnhanceSoft, JoomiWeb, Write Results, and other programs developed by SuperWeb LLC can showcase the same unreliable ads, which is why they require removal as well.
Our malware research team has found that it is usually enough to uninstall Global Gadget to remove it from your operating system. We recommend using a malware scanner to make sure that you do not miss any leftover components. If you cannot delete Global Gadget-related components or other infections, we suggest installing an automated malware removal tool. If you keep this software updated, it will protect you from the attacks of other malicious threats, which is very important, because next time you might encounter much more devious and clandestine malware.
Remove Global Gadget from Windows
Remove from Windows 8/Windows 8.1:
Click the Search icon on the Charm bar in Metro UI.
Enter and open the Uninstall a program utility.
Right-click and Uninstall the program you have chosen to delete.
Remove from Windows Vista/Windows 7:
Click the Windows button on the Taskbar and open Control Panel.
Select Uninstall a program and right-click the app you wish to delete.
Select Uninstall to initiate the removal process.
Remove from Windows XP:
Navigate to the Taskbar, click Start, and open Control Panel.
Double-click Add or Remove Programs and go to Change or Remove Programs.
Identify the application you wish to eliminate, select it, and click Remove.
In non-techie terms:
Global Gadget is an advertisement-supported program that you must remove from your operating system. If you uninstall this program, it should be deleted from all infected browsers as well. If you run a malware scanner and leftovers are detected, including other infections, it might be a good idea to install an automated malware removal tool. If you are struggling to install this software, you might have use for the removal instructions below.