Do you know what Gio.mappingdone.net is?
Gio.mappingdone.net is an ad rotation server used by a number of adware applications. It is related to a number of other domains and adware servers. Gio.mappingdone.net in particular hosts the ads themselves and adware information. It is also related to Jdl.findpre.net, but this typing this domain into your browser just opens a blank page. If you are spammed with pop-ups from this server, it means that you have an adware application installed on your computer. To remove Gio.mappingdone.net from your browser, you need to get rid of the adware program responsible for it first.
The pop-ups displayed via Gio.mappingdone.net appear when user clicks a link on yet another commercial advertisement that has a line "Ads by [adware name]". In other words, after having clicked a flash advertisement you are getting redirected to Gio.mappingdone.net, where you are exposed to even more commercial ads. Usually, pop-ups delivered via Gio.mappingdone.net offer fake Java, Flash or FLV player updates. If you click the links to the so-called "updates", you will end up installing more adware and potentially unwanted software on your computer.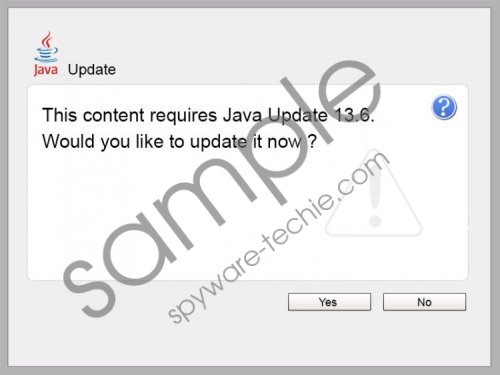 Gio.mappingdone.net screenshot
Scroll down for full removal instructions
For example, Gio.mappingdone.net "Java updates" are known to be related to YetAnotherCleaner distribution, while "FLV player" update link leads to different adware installation every single time. Based on user longs, we can see that Gio.mappingdone.net ad rotation server is most often used by Lyrics family adware. The programs that make use of Gio.mappingdone.net the most are called SelectNGo and ReMarkable.
Such applications usually promise to "optimize your user experience" because when you use such an application you "freely customize the way ads are presented". However, rather than helping you to control the flow of commercial pop-ups, Gio.mappingdone.net and programs using it flood you with additional advertisements that can eventually lead you to unreliable websites or make you participate in a suspicious online marketing survey.
The bottom line is that adware programs are not direct computer security threats, but constant pop-ups are the first sign that there might be something off. Hence, run a full system scan with SpyHunter free scanner and find out what kind of adware applications are installed on your computer. If these programs have entries on the list of installed programs, remove them via Control Panel. Consequently, you will be able to get rid of Gio.mappingdone.net as well.
If the programs cannot be removed via Control Panel, invest in a licensed antimalware application that will terminate all the potential threats automatically. For further questions, please do not hesitate to leave a comment below.
How to remove adware applications
Windows 8
Move mouse cursor to the bottom right of the screen.
Click Settings on Charm bar and then go to Control Panel.
Open Uninstall a program and remove adware application.
Windows Vista & Windows 7
Open Start menu and select Control panel.
Go to Uninstall a program and remove unwanted adware app.
Windows XP
Open Start menu and navigate to Control panel.
Select Add or remove programs and uninstall adware applications.
In non-techie terms:
Gio.mappingdone.net is a domain that helps adware applications delivering pop-up ads on your screen. The website is not dangerous by itself, but it can be used to distribute annoying and potentially corrupted content. To remove Gio.mappingdone.net you need to terminate the adware applications that are utilizing it.