Do you know what Gibon Ransomware is?
The news are in that Gibon Ransomware is being sold on the black market, which means that different parties can use the framework to create their own versions of the threat. According to our research team, it is most likely that the threat will remain the same, and the way it functions will not change; however, the contact information presented via the ransom note will. The main tasks for this malware include slithering into an operating system successfully, encrypting files, and creating a file representing the ransom note. Unfortunately, if this malware can get past the first hurdle – which is infiltrating an operating system – there is no stopping it. Of course, you might disable the threat before anything bad happens by deleting the launcher file, but that is unlikely to happen in most cases because this devious ransomware is very clandestine. Unfortunately, once it attacks, recovering files might become impossible; even if you remove Gibon Ransomware successfully.
The creator of Gibon Ransomware has named their infection themselves, but victims might recognize it by different names, including Bomboms123@mail.ru Ransomware, Yourfood20@mail.ru Ransomware, and Encrypt Ransomware. That is because the name "Gibon" is not mentioned in the ransom note. The other names derive from the extension that is attached to the encrypted files (".encrypt") and the email addresses that users are instructed to contact (e.g., bomboms123@mail.ru and yourfood20@mail.ru). These emails, of course, are bound to change depending on which party is using Gibon Ransomware to terrorize Windows users. The ransom note is represented via a file called "READ_ME_NOW.txt", and, according to it, victims must contact one of the emails by sending the ID number that is also attached to the ransom note if they want to recover their files. If communication is initiated, cyber criminals are likely to send demands to pay a ransom. Whether it is small or big, paying it is not recommended because cyber criminals would not give you what you need to decrypt files anyway. You might as well delete the "READ_ME_NOW.txt" because you have no use for it.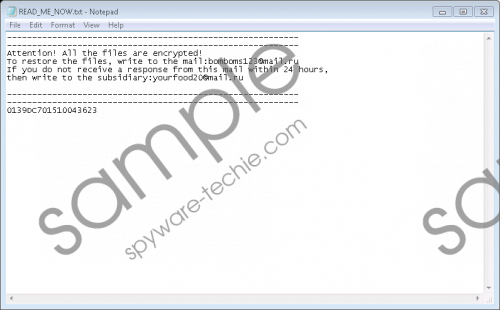 Gibon Ransomware screenshot
Scroll down for full removal instructions
Gibon Ransomware is meant to encrypt personal, irreplaceable files, such as personal photos, media files, and text documents. Hopefully, you have taken care of your files by backing them up, and the demands introduced to you by the ransomware are not intimidating you. If your files are not backed up, you might be focused on recovering the files that were encrypted by Gibon Ransomware. While legitimate file decryptors exist, they cannot help you in this situation because a strong encryption algorithm is used to corrupt your files. Only a decryption key can help you with the decryption, and, needless to say, cyber criminals do not need to release it. Even if you pay the ransom. That, unfortunately, means that if your files were encrypted, there is nothing you can do. Take this as a lesson to be more cautious in the future. And if you have backups, do not try to access them until you remove the malicious ransomware.
It is very important that you delete Gibon Ransomware from your Windows operating system as soon as possible. Even though this does not mean that your files will be decrypted, you must erase this malware as soon as possible. If you think you can eliminate this threat yourself, you need to be capable of identifying the launcher file. If you cannot do that, install a legitimate anti-malware tool instead. It will automatically erase the malicious components. Even better, it will make sure that you do not need to worry about the invasion of other infections in the future because it will reinstate full-time protection.
Remove Gibon Ransomware
Delete all recently downloaded suspicious files.
Delete the ransom note file, READ_ME_NOW.txt (might have copies that also must be erased).
Empty Recycle Bin to erase the components of the malicious ransomware.
Install a trustworthy malware scanner to inspect your system for potential leftovers.
In non-techie terms:
If Gibon Ransomware has invaded your operating system, there is no doubt that it lacks reliable protection. Virtual protection must be taken very seriously because there are so many different kinds of threats that can invade your operating system and wreak havoc. In this case, the ransomware encrypts files, and if they are not backed up, it is unlikely that you will recover them. Do not rely on the cyber criminals' promises to provide you with a decryptor once you pay the ransom. In fact, it is unlikely that you will get anywhere by doing that. So, keep your money to yourself, and quickly delete Gibon Ransomware from your system. If you are more experienced, you probably will be able to remove this malware using the instructions above, but if you are not experienced, utilize legitimate anti-malware software ASAP.