Do you know what Giant Galaxy is?
Giant Galaxy is an annoying application that will spam you with pop-up advertisements. Some of the ads may seem to be related to your most recent web searches. That is because Giant Galaxy collects information on your web browsing history to generate customized ad content. This is not something illegal, but this practice could be exploited by malevolent third parties who know how to employ Giant Galaxy for their own purposes. Do not become yet another victim of an online marketing scam. Remove Giant Galaxy today and protect yourself from any potential exploitation.
At first you may not even notice that Giant Galaxy has entered your computer. Although this program does not infect you like a Trojan or a rogue application, most of the time users are not aware of the fact they install Giant Galaxy themselves. This happens because the program gets distributed along with some other freeware application. For example, say you have found a media converter tool you need on a third-party file-sharing website. You download the program because it is free of charge and the website in question does not ask for any sign up. However, this is where you make a mistake, because a third-party installer clearly comes with a few other applications like Giant Galaxy, and you had no idea they entered your PC as well.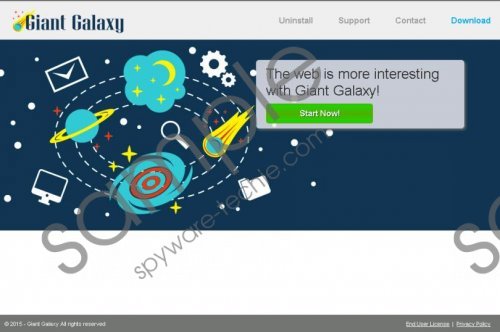 Giant Galaxy screenshot
Scroll down for full removal instructions
Naturally, you could avoid installing Giant Galaxy if only you had read the installation wizard's steps. Unfortunately, users are often too preoccupied with breezing through the installation, and they do not pay attention to additional clauses in the setup. As a result, the likes of Giant Galaxy manage to get installed on the target system, and there is nothing illegal about that.
On the surface, Giant Galaxy looks like a useful application that can improve your web browsing experience, but you would make a terrible mistake if you were to believe the program's promises. After all, this app is just another addition to the Superweb family, and it is no different from Razor Web, Esuack, and Global Gadget, so the only reason it enters your computer is money. Thankfully, it does not try to steal your financial information, but at the same time there is nothing useful or reliable about this application.
What's more, when Giant Galaxy gets installed on your computer, it adds an extension to Mozilla Firefox, Google Chrome, and Internet Explorer. The program starts collecting information on what websites you visit so that it will know what kind of content it should embed in its commercial ads. Unfortunately, Giant Galaxy does not review the third-party links it promotes, and this is the main reason you must remove Giant Galaxy. There is no way to know whether the application offers you reliable links or not. In the worst case scenario, cyber criminals might exploit this application to infect you with malware. Keeping in mind this perspective, you should get rid of Giant Galaxy right now.
When you uninstall Giant Galaxy via Control Panel, the extensions should disappear from your browsers automatically. On the other hand, the same cannot be applied to other programs that arrived along with Giant Galaxy. To take care of them, you should acquire a legitimate security application that would delete all the potential threats for you automatically.
How to Remove Giant Galaxy
Windows 8 & Windows 8.1
Move the mouse cursor to the lower right corner of your screen.
When the Charm bar appears, click Settings and go to Control Panel.
Select Uninstall a program and remove Giant Galaxy.
Windows Vista & Windows 7
Open the Start menu and click Control Panel.
Go to Uninstall a program and remove Giant Galaxy.
Windows XP
Click the Start button and open Control Panel.
Select Add or remove programs and uninstall Giant Galaxy.
In non-techie terms:
Giant Galaxy is the culprit behind the horde of annoying pop-ups that do not allow browsing the Internet properly. These pop-ups might also accidentally expose you to unreliable third-party websites that collect browsing data or distribute malware. Thus, it is obvious that you have to remove Giant Galaxy to protect your system from potential threats. Do not postpone dealing with this application just because it is not a genuine computer infection. Adware programs should not be taken lightly.