Do you know what Ghokswa Browser is?
Ghokswa Browser is a piece of software that should be removed from the system. It has been observed that Ghokswa Browser is a clone of Google Chrome, so you should use the original version of this browser instead of keeping Ghokswa Browser. Ghokswa Browser not only looks like Google Chrome, but it also acts the same, i.e. it enables users to access different web pages. As Ghokswa Browser pretends to be a legitimate browser, it often falls into the category of potentially unwanted programs (PUPs). As Ghokswa Browser looks and acts exactly like Google Chrome, it should not cause much harm to your system; however, there is still a possibility that it will do something else because it uses service.ghokswa.com which might send a bad command. Unfortunately, many users find it really hard to delete Ghokswa Browser from their systems because this software does not have an uninstall entry in Control Panel. Even though it will be slightly more difficult to get rid of Ghokswa Browser, it is still possible to do that manually. We will provide you more information on that in the article.
There are two reasons why Ghokswa Browser is usually put into the category of potentially unwanted programs by different researchers and security tools. First, it tries to convince users that it is a legitimate Google Chrome browser. Second, it modifies the shortcut of Google Chrome browser by adding the Target line \ghokswa Browser\ghokswa\chrome.exe. After it does that, the modified Google Chrome browser will be opened from the Ghokswa Browser folder instead of an original Google Chrome directory. Even though Ghokswa Browser is a copy of Google Chrome, our team of specialists still believe that this browser might act somehow differently. If you ever notice something strange, delete Ghokswa Browser without any further consideration.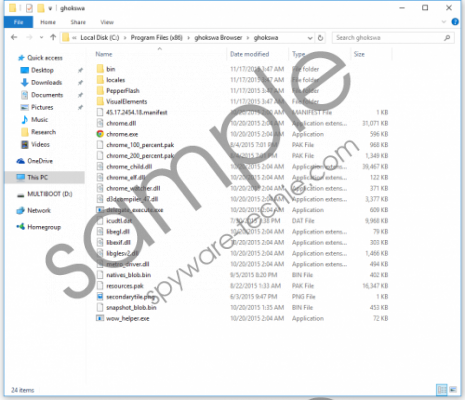 Ghokswa Browser screenshot
Scroll down for full removal instructions
As Ghokswa Browser looks exactly like Google Chrome, some users cannot say which browser they have on the system. Do not worry; it is rather easy to recognize Ghokswa Browser. Specialists say that you should simply go to %PROGRAMFILES% and %PROGRAMFILES(x86) and find the main folder of this browser. It is called ghokswa Browser. If you have detected and opened it, you should have found such files as wow_helper.exe, delegate_execute.exe, secondarytile.png, libegl.dll, metro_driver.dll, resources.pak, d3dcompiler_47.dll, and metro_druver.dll. Are they present? If so, we are sure that you have encountered Ghokswa Browser. It is up to you whether to delete it or not, but, in our opinion, it would be smarter to use an original Google Chrome browser instead of the modified version also known as Ghokswa Browser because it might act somehow undesirably.
The majority of users cannot even explain how Ghokswa Browser has slithered onto their computers. We want to inform you that Ghokswa Browser has an official website ghokswa.com; however, it immediately redirects users to https://www.google.com/chrome/browser/desktop/index.html. Of course, there is a small possibility that users download this browser from there and install it on their systems themselves; however, researchers who have tested this potentially unwanted program say that Ghokswa Browser enters systems without permission too most of the time because it comes bundled with other programs in malicious installers. There is not much to do in order to protect the system. Security specialists say that you should install a security tool on your system and set it to be active 24/7. In addition, it is highly advisable that you surf the web more carefully and install new applications very attentively.
Ghokswa Browser itself does not have an uninstall entry in Control Panel, so there is no point in checking this utility. Luckily, it is still possible to remove Ghokswa Browser by clicking on the Uninstall.exe file. This file can be found in %PROGRAMFILES% or %PROGRAMFILES(x86)%, the ghokswa Browser directory, to be more specific. Unfortunately, Ghokswa Browser will leave some of its files on board too. Below provided instructions will help you to find the software and erase it fully. In case you do not want to implement the Ghokswa Browser removal yourself or find this difficult, acquire a reputable security tool, such as SpyHunter, and then scan your system with it.
Delete Ghokswa Browser from the system
Launch RUN.
Enter %PROGRAMFILES%\ghokswa Browser\ in the box if you use 32-bit Windows OS.
Copy and paste %PROGRAMFILES(x86)%\ghokswa Browser\ to the field, if you use 64-bit Windows OS.
Click OK.
Find and click on the Uninstall.exe file.
Tap the Windows key + R and enter regedit. Click OK.
Delete the following registry keys: HKLM\SOFTWARE\Wow6432Node\Clients\StartMenuInternet\ghokswa, HKLM\SOFTWARE\Clients\StartMenuInternet\ghokswa, and HKCU\SOFTWARE\Classes\ghokswaHTM.
Launch RUN again and enter %PROGRAMFILES(x86)%\ghokswa Browser and %PROGRAMFILES(x86)%\crxbro Browser one by one. Delete both these directories.
Find ghokswa and crxbro folders in %PUBLIC% . Remove them.
Erase crxbro and ghokswa folders from %LOCALAPPDATA% as well.
In non-techie terms:
It does not mean that your system is completely clean after you remove Ghokswa Browser from the system. Therefore, it is very important that you scan you system with a reputable antimalware tool after you have implemented the manual Ghokswa Browser removal. You can use the diagnostic SpyHunter scanner for this matter. It will tell you what other threats you have to remove to make your system perfectly clean.