Do you know what GetEasyArcade is?
Have you downloaded GetEasyArcade hoping that it would provide you with access to online games? If you have, you must be disappointed now because this suspicious Google Chrome/Mozilla Firefox add-on does not serve in a beneficial manner. It is possible that it used to provide users with games in the past, but, right now, this is not how it works. According to our expert malware analysts, it is possible that this extension was created as an advertising and data-collection tool, and that is why we cannot classify it as a harmless piece of software. Instead, we identify it as a potentially unwanted program (PUP), and it is recommended that you delete GetEasyArcade from your browser without further hesitation. Even if this suspicious program enables you to play games from your browser, we still recommend removing it.
The official download source for GetEasyArcade is geteasyarcade.com, but the "Install" (on Firefox) and "Add to Chrome" (on Chrome) buttons do not work. The installer found on the Chrome web store at chrome.google.com/webstore/detail/easy-arcade/apbofmodpodebgolpnejglhedmblmfen is still active, and so you can acquire it from there. Unfortunately, users are likely to let this potentially unwanted program created by APN, LLC (the creator of another PUP, SportsHero) via third-party installers that might bundle it along with other PUPs, adware, hijackers, and malware. These installers could be introduced to you via unreliable advertisements and pop-ups. If other infections have invaded your PC along with GetEasyArcade, a legitimate malware scanner can help you confirm this. This tool can also give you the names of the infections you are dealing with, which should make it easier for you to research them and their removal. Needless to say, you should get rid of every single malicious threat that is found on your operating system.
When you install GetEasyArcade, it takes over the New Tab, and if you are using Mozilla Firefox, it changes the homepage as well. The interface of the PUP is represented with the mysearch.com search engine, except that there are also links representing different genres of games. These include Driving, Adventure, Action, Puzzle, and Shooter games. One of the tabs also shows Recently Played games, which means that the PUP tracks this activity. Overall, at this moment, the games cannot be played, and when you try to, you simply download a .swf file (Flash Player). Even though this feature does not work, GetEasyArcade still provides you with a search field, and that might make it appear as a genuine search engine. It is not, and although it uses the name of Google, you should not interact with the results shown. They are likely to include potentially unreliable third-party links. Besides that, the PUP also presents links to instagram.com, twitter.com, and other popular sites. Though these links are legitimate, we still recommend deleting the PUP.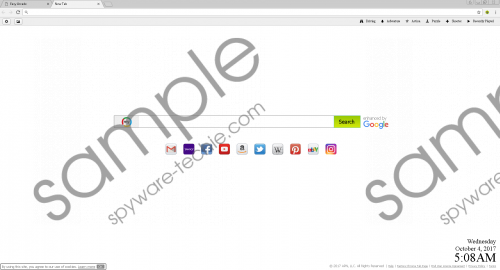 GetEasyArcade screenshot
Scroll down for full removal instructions
Have you had experience deleting unwanted extensions from your browsers? If you have, it should be very easy for you to remove GetEasyArcade. If you do not have experience, you should be able to succeed by following the instructions below. You also should not forget about third-party malware that might exist on your PC. In fact, if more serious threats are found, you should focus on them first. You can also get rid of all threats simultaneously using the same instrument, an anti-malware program. If it is legitimate and up-to-date, all infections will be eliminated, and your operating system will be protected.
Delete GetEasyArcade from browsers
Mozilla Firefox
Open the browser and tap Ctrl+Shift+A to launch the Add-ons Manager.
In the menu on your left click Extensions.
Click the Remove button representing the unwanted extension.
Google Chrome
Open the browser and enter chrome://extensions/ into the address bar.
Click the trash bin on the right of the undesirable extension.
Select Remove to get rid of it.
In non-techie terms:
If you want to play games online, you need to be very careful about how you do it. If you chose to install a program or an extension for this, make sure you do not install GetEasyArcade. This seemingly harmless add-on does not work in a beneficial manner, and you might face security issues by using it. First and foremost, at the time of research, it did not allow playing games. Second, the search tool it represents is not trustworthy because advertisements and unpredictable links can be shown via it. Finally, information about you and your activity can be recorded by it. If you need to remove GetEasyArcade, we suggest scanning your PC first to check if you need to eliminate other infections. If you find other threats, you might choose an anti-malware program to have all of them deleted simultaneously.