Do you know what GetCouponsFast Toolbar is?
GetCouponsFast Toolbar is a potentially unwanted application or PUP, and it might be installed on your browser when you set up some freeware application on your PC. Although this browser extension is not a direct computer security threat, you should remove GetCouponsFast Toolbar from the system if you did not intend to have it.
When a program enters your computer unexpectedly, it should not be tolerated, especially if you do not know how it got installed in the first place. For the manual removal instructions, scroll down to the bottom of this description.
This toolbar supports all three major browsers: Chrome, Firefox, and Internet Explorer. So if you use any of the mentioned browsers, and this application happens to enter your PC, you will probably have to deal with the consequences. For starters, this program will change your homepage and the new tab settings to search.myway.com. Of course, this is not an original search engine because this program uses a custom version of the Google Search engine. It means that the toolbar monitors your web searches and then displays modified search results. These results look reliable, but they are only waiting for your clicks.
Why would GetCouponsFast Toolbar need your clicks? Your clicks are the things that help the people behind this application make money. As mentioned, this toolbar is not a malicious computer threat, but it is there to make a financial profit via the pay-per-click system. So if you click the content promoted by this program and increase the traffic to affiliated websites, you will be one of the many who send cash to the GetCouponsFast Toolbar's developers' pockets. Although this scheme is not illegal, it is not mutually beneficial. In other words, you work for free, and you get nothing in return.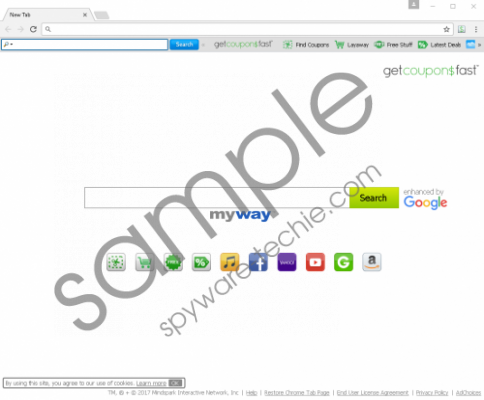 GetCouponsFast Toolbar screenshot
Scroll down for full removal instructions
That is not anything unexpected because similar tactics have been employed by other members of the same group as well. This toolbar comes from the MindSpark Family, and so it is directly associated with DigiSmirkz Toolbar, ConvertPDFsNow Toolbar, DIrectionsBuilder Toolbar, and many more. All these browser extensions come forward boasting of one particular function that should improve your web browsing experience. However, usually that function is really random, and it is not something one would not be able to find someplace else. For instance, GetCouponsFast Toolbar says that with the application, you can "get free printable coupons from popular sites."
While this service might seem useful, especially if you always hunt for discounts, the question is how much you can trust a third-party application to provide you with relevant and reliable coupons. Where does it get its coupons? Most probably from third-party websites, too. What's more, some of the coupons could be embedded with custom content related to your recent web browsing history. It might look that GetCouponsFast Toolbar can provide you with the most relevant deals, but that is because it MONITORS your online activity, consequently breaching your privacy. Do you really want to have that kind of application on-board?
If you did not download the toolbar from its main homepage (and the chances are that you did not), then GetCouponsFast Toolbar must have arrived in a software package. Therefore, it means that this application is not the only unwanted program installed on your computer. Perhaps you have noticed that your system has been sluggish lately, and your browser does not load as fast as it used to? A number of potentially unwanted programs might be to blame for this, and so you need to take care of this situation.
As mentioned, you can you use manual removal instructions to delete GetCouponsFast Toolbar from your computer. However, if you do not want to hunt for each and every unwanted application on your own, you should consider investing in a licensed antispyware tool that would do the job for you. What's more, with a security program of your choice, you will be able to protect your computer from similar intruders in the future.
Please do not forget that it is always a good idea to run a full system scan after manual software removal. Also, should you have further questions about computer security, do not hesitate to leave us a comment.
How to Remove GetCouponsFast Toolbar
Internet Explorer
Press Win+R and type Control Panel. Click OK.
Go to Uninstall a program (Add or remove programs on Windows XP).
Uninstall GetCouponsFast Internet Explorer Homepage and New Tab.
Firefox
Press Win+R and the Run prompt will open.
Enter %AppData% into the Open box and click OK.
Go to Mozilla\Firefox\Profiles\[PROFILE]\extensions.
Delete the _jhMembers_@www.getcouponsfast.com folder.
Chrome
Press Win+R and type %LocalAppData%. Click OK.
Go to Google\Chrome\User Data\[PROFILE]\Extensions.
Delete the iadmakoacmnjmcacmhlcjcameijgcopj folder.
Go to Google\Chrome\User Data\[PROFILE]\Local Extension Settings.
Delete the iadmakoacmnjmcacmhlcjcameijgcopj folder.
Navigate to Google\Chrome\User Data\[PROFILE]\Sync Extension Settings.
Remove the iadmakoacmnjmcacmhlcjcameijgcopj folder.
In non-techie terms:
GetCouponsFast Toolbar may not seem like a security threat, but this browser extension can easily be exploited by cyber criminals to expose you to potentially harmful content. In other words, you could get into trouble if you continue using this toolbar. Do yourself a favor and remove GetCouponsFast Toolbar right now. After that, make sure that no similar applications enter your system again.