Do you know what Get.desk2opapps.com is?
Get.desk2opapps.com is an advertising server that contains setup files for some applications promoted by adware programs. You may encounter Get.desk2opapps.com when your browsers, including Internet Explorer, Google Chrome and Mozilla Firefox, contain an adware program. Get.desk2opapps.com can be used by numerous adware applications; hence, it is impossible to pinpoint every single program that works jointly with Get.desk2opapps.com. Nevertheless, it is highly advisable to ignore pop-up advertisements and recommendations displayed by adware.
You can be redirected to a website whose URL starts with "Get.desk2opapps.com" after clicking on an advertisement promoting a media player, Flash player or any other software programs. The downloader of the program may be launched automatically, but we recommend that you decline the installation in order to avoid various undesirable programs.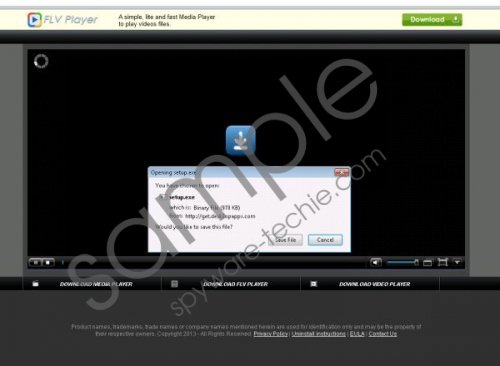 Get.desk2opapps.com screenshot
Scroll down for full removal instructions
It has been found that one of the setup files promoted by Get.desk2opapps.com is published by Outbrowse, based in Israel. The company offers monetizing solutions by distributing their own applications along with third parties' software. Outbrowse allows advertisers to reach a wider audience and the traffic they want. Moreover, outbrowse.com offers the products that they develop and distribute, including Mixi.Dj, Face & Chat, and Revenyou.
The installer provided by Get.desk2opapps.com is full of adware programs, which monitor users' action and display different types of advertisements, including web banners, pop-up ads and coupons. It is important to note that adware programs are usually not associated with the websites that are being advertised. Every website has its privacy policy, and if the user wants to buy a product or a service, the privacy policy and other important information should be reviewed beforehand. Neither Get.desk2opapps.com, nor the company that develops the adware program is liable for third parties' actions, which means that you interact with those advertisements at your own risk.
In order to remove the adware program which keeps displaying Get.desk2opapps.com advertisements, you should implement a powerful spyware and malware removal tool. You can try removing the adware program manually, but bear in mind that some files associated with the application may remain within the system. We recommend using SpyHunter because this application can eliminate various computer threats and safeguard the system against other threats. Do not hesitate to implement the recommended application especially if you have installed the adware programs promoted by the Get.desk2opapps.com installer.
How to get rid of Get.desk2opapps.com advertisements
Windows Vista and Windows 7
Open the Start menu.
Click Control Panel.
Select Uninstall a program.
Remove the unwanted application.
Windows 8
Move the mouse to the lower-left corner of the screen.
Right-click.
Select Control Panel.
Click Uninstall a program.
Remove the unwanted application.
Windows XP
Click Start.
Select Control Panel.
Click Add or Remove Programs.
Uninstall the unwanted application.
In non-techie terms:
Once you finish the removal of the unwanted application, you should scan the system to make sure that no files associated with the adware program are left within the system.