Do you know what Gendarmerie Nationale Virus is?
Gendarmerie Nationale Virus is only one of the many ransomware infections that could affect your operating Windows system, in case you live in France. Such surreptitious infections as Sacem Police Nationale Ransomware, Office Central de Lutte contre la Criminalité Ransomware or Police Nationale FR Ransomware could also be targeting your system right this very moment. In fact, even if you live outside of France, it does not mean that you are safe, because the latent ransomware has a countless number of similar infections all across the North America and Europe, including West Yorkshire Virus, FBI Moneypak, and RCMP Virus. Just like you need to remove Gendarmerie Nationale Virus you also should delete any of the attacking ransomware infections; however, for now focus on having the French version removed from your personal computer.
Gendarmerie Nationale Virus is categorized as a ransomware infection because this program slithers into a computer without permission, tampers with its controls, removes your administrative privileges to access the desktop and finally demands a ransom payment of 200 (the new version) or 100 (the older version) Euros. It has to be paid within 3 days through Ukash or Paysafecard, which are known to be digital prepaid payment methods. In case your computer gets infected with Gendarmerie Nationale Virus, a screen-locking window containing logos of law enforcement agencies and a long message in French will appear. It will try to convince users that the French authorities have blocked their computers due to illegal activities performed, e.g. the distribution of pornographic material, pirated software, and even spam. Excerpts of the two versions of screen-locking messages (the one from the newer version of the ransomware and the one from the older one) can be found below:
Activite illicite demelee!

Ce blocage de l'ordinateur sert a la prevention de vos actes illegaux. Le systeme d'exploitation a ete bloque a cause de la derogation de lois de la Republique Francaise!

On a releve l'infraction a la loi: de votre IP addresse qui correspond a [your IP] on a realise la requete sur le site qui contient la pornographie, la pornographie d'enfant, la sodomie et des actes de violence envers les enfants. Egalement on a recupere un video avec les elements de violence et la pornographie d'enfants. De meme on a retrouve l'envoi cu curriel electronique sous forme de spam avec les dessous terrorists.

Pour lever le blocage de l'ordinateur vous devez payer le recouvrement de 100 euros.
******
ATTENTION!
Votre ordinateur a été bloqué pour violation de la loi Française
Les infractions suivantes ont été détectées:
Le fait, en vue de sa diffusion, de fixer, d'enregistrer ou de transmettre des matériels pornographique impliquant des mineurs.
Spam.
Utilisation des logiciels en infraction avec les droits d'auteur
Partager des fischiers multimédia en infraction avec les droits d'auteur
Pour débloquer votre ordinateur, vous devez payer 200 € dans les 3 jours prochaines. Si vous ne payez pas dans le délai précisé, votre ordinateur sera confisqués et votre cas sera soumis au tribunal.
As stated above, each of the Ukash (or Paysafecard) viruses are targeted at particular countries, which is why the sinister alert is written in French and is complimented by official French police logos. This trickery is completely illegal, and you should have no question whether authentic authorities have anything to do with the devious infection. Moreover, you should also ignore the made-up accusations of storing illegal content material inside your personal computer, which is just another intimidating lie that schemers will use to lure out your own money.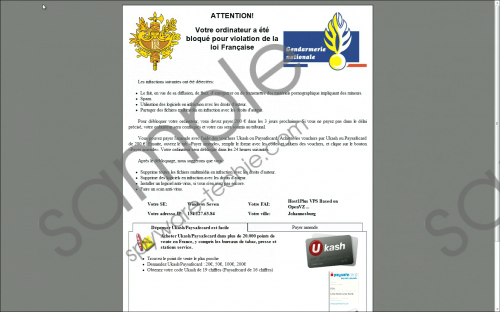 Gendarmerie Nationale Virus screenshot
Scroll down for full removal instructions
Our team of experts has recently tested Gendarmerie Nationale Ransomware thoroughly and found that it, like other known ransomware infections, enters computers illegally. There are two ways cyber criminals distribute these threats. First of all, ransomware infections are known to be spread through spam emails. They appear in them as legitimate-looking email attachments and often pretend to be harmless to convince users to open them. Secondly, Gendarmerie Nationale Ransomware and other screen-locking viruses can be spread through malicious software installers, which means that it is possible to get them from untrustworthy third-party websites too. If Gendarmerie Nationale Ransomware successfully infiltrates the computer, a new .exe file will be created in %APPDATA%, whereas the new registry entry HKLM\SOFTWARE\Microsoft\Shared Tools\MSConfig\startupreg\[randomname].exe will be added to the system registry and could be seen if the registry editor is opened.
Gendarmerie Nationale Ransomware locks the screen and does not allow users to access Desktop. The only command that works is Ctrl+Alt+Del. Therefore, those who wish to remove this ransomware and gain access to their computers will have to start Windows in Safe Mode with Networking first. Then, users could delete the virus manually or automatically, i.e. use the manual removal instructions or download a special tool for removing malware, e.g. SpyHunter and launch it. The removal of this infection is the only solution to the problem.
Delete Gendarmerie Nationale Ransomware manually
Start Windows in Safe Mode with Networking
Windows 7/Vista/XP
Reboot your computer.
Start tapping F8 before Windows OS loads up.
Select Safe Mode with Networking from the Advanced Boot Options menu.
Tap Enter.
Windows 8/8.1/10
Restart your PC.
At the Windows login screen, hold down the Shift key and click Power. Then, click Restart.
Click Troubleshoot.
Open Advanced options.
Click Startup Settings.
Click on the Restart button.
Remove the ransomware infection
Tap Win+E.
Type %APPDATA% in the URL bar and tap Enter.
Locate the .exe file that has the random name, e.g. Under.exe.
Tap Win+R.
Enter regedit.exe in the box.
Tap Enter.
Right-click on the HKLM\SOFTWARE\Microsoft\Shared Tools\MSConfig\startupreg\[randomname].exe registry key.
Select Delete.
Reboot your PC.
In non-techie terms:
Should you believe Gendarmerie Nationale Virus? If you do, your money will be lost for good, and your system could get infected with more malware. Should you remove Gendarmerie Nationale Virus? Absolutely yes and the quicker you delete this infection, the sooner you will regain full control over your system. Since manual removal is not easy and inexperienced users might find this removal method extremely difficult, security specialists suggest acquiring an automatic removal tool. To do so, you should reboot your system in Safe Mode with Networking, download the tool, and then scan the system.