Do you know what Gedantar Ransomware is?
Gedantar Ransomware is yet another infection that appears to be in the development stages. It is not known if the threat will evolve or when that would happen, but because there is a possibility that this infection could become a serious threat, we need to discuss it. When reading this report, keep in mind that a lot of information is still being gathered. Our research team is working hard to find and analyze the latest samples of malware, and if the malicious ransomware is upgraded, we will report it ASAP. For now, we can only discuss the potential of this malware, as well as ways to protect yourself against it. Hopefully, you have not become a victim of this threat yet, and you can take action to ensure that it cannot attack in the future. Overall, whether you want security tips or you want to learn how to remove Gedantar Ransomware, we suggest reading this report.
Are you familiar with ransomware? Even if you have never heard of the term before, you probably have realized by now that this is the kind of software that demands a ransom. In most cases, that is done using application windows or image files created by the infections. Gedantar Ransomware, unfortunately, is not the only threat of this kind. In fact, in the last couple of years, ransomware has been dominating the world of malware. Some of the latest infections to join the group are Bansomqare Wanna Ransomware, Sorry HT Ransomware, Whiterose Ransomware, and Haxerboi Ransomware. Removal guides for all of these threats can be found on this website. The distribution of this malware can be unique in every case; however, users need to be careful about opening spam emails and the files/links attached to them because this is how ransomware spreads in most cases. Once installed, every infection – at least, for the most part – has a unique course of action.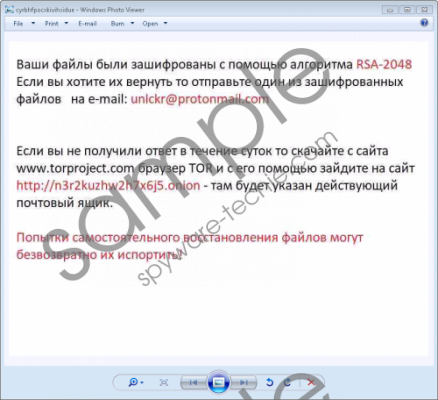 Gedantar Ransomware screenshot
Scroll down for full removal instructions
When Gedantar Ransomware invades the system, it executes the "cmd /c net view" command and enumerates hard drives inside the computer to scan all folders and files. The infection should then encrypt files. Although the version we tested did not perform encryption, later versions could be capable of doing that. After that, the infection drops a ransom note file, which is represented using a JPG file. The name of the file is completely random, and copies of it are created all over the computer. According to the message inside, the victim must email unlckr@protonmail.com to retrieve information about the payment of the ransom. The ransom note, by the way, is represented in Russian, which implies that the targets of Gedantar Ransomware are Windows users who speak this particular language. When you remove the infection, do not forget to remove every single ransom note file as well.
It might be difficult to delete Gedantar Ransomware if the victim cannot identify and erase the launcher file. The guide below shows the basic steps that can ensure the elimination of this malware; however, we cannot guarantee that every user will be able to follow them. Using anti-malware software, however, can be beneficial to everyone because it can both remove existing threats and protect against others in the future. Note that if the operating system is not protected, it is much more vulnerable to all of the threats that exist. That is not the only security measure. You also should think about backing up personal files. If you do that, your files will be safe no matter who or what invades your operating system.
Remove Gedantar Ransomware
Launch Task Manager (tap keys Ctrl+Alt+Delete and click Start Task Manager).
Click the Processes tab and look for malicious processes.
If you find a process that belongs to the ransomware, right-click it and select Open File Location.
Go back to the Task Manager, select the process, and click End process.
Go back to the malicious .exe file, right-click it, and select Delete (some of the potential locations of this file include, %USERPROFILE%\Desktop, %USERPROFILE%\Downloads, and %TEMP%).
Empty Recycle Bin and then immediately perform a full system scan.
In non-techie terms:
The malicious Gedantar Ransomware might be in development stages, which is why there is not much known about it still. That being said, it is obvious that this infection was/is being built as a file encryptor. If you want to protect yourself against it, install anti-malware software and back up all important files. If it has invaded your system already, and your files got decrypted, do not pay attention to the ransom demands because they are meant to push you into paying a ransom. Would your files be decrypted if you paid it? That is unlikely to be the case. All in all, whatever happens, you need to delete Gedantar Ransomware, and you can do that with the help of anti-malware software or yourself. Pick the option that fits your situation best.