Do you know what Gandcrab2 Ransomware is?
The popularity of ransomware applications is due to the fact that malware developers use them to make illegal profits from unsuspecting Internet users. Malware researchers at our Internal labs have discovered one such program which is known as Gandcrab2 Ransomware. If you ever encounter it while browsing the Internet, be sure to do everything in your power to avoid it. Doing so is paramount because this malicious program can act maliciously. It is designed to encrypt vast quantities of data in a matter of minutes. To find out more about the inner workings of this devious piece of software, read the rest of this article. We also include virtual security recommendations that will help you maintain a clean and safe operating system at all times. Also, you will find a comprehensive removal guide that you should use to delete Gandcrab2 Ransomware once and for all.
It is important to note that the majority of ransomware applications function similarly, and Gandcrab2 Ransomware is not the exception. During the extensive analysis, malware experts at Spyware-Techie.com have discovered that this malware, just like its counterparts, starts doing its dirty work at the very same instance that successfully enters your operating system. First, it identifies the contents of your hard drive. Right after that is done, it will start the encryption procedure. Unfortunately, this malicious program usually blindsides affected users because it functions silently. During the encryption process, your data will be locked with a robust algorithm, which means that manual decryption is not a viable option to solve your problems. Due to such functionality of this ransomware, quite a few of your program will cease to work because files essential for their functionality will be inaccessible. Each affected file will be tagged with the .crab extension. Once your data is encrypted, you will notice a ransom note. It tells you that your data is locked and that you need to pay a ransom for decryption services. Under no circumstances abide by these demands. We urge you to do so because malware developers are not legally bound to decrypt your files even if they receive the payment. Thus, you could lose not only your data but a large sum of money as well. It should be self-evident that you must delete Gandcrab2 Ransomware once and for all. To do that without encountering any major problems, make use of the instructions below.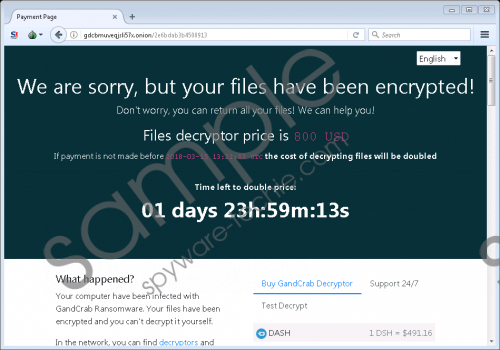 Gandcrab2 Ransomware screenshot
Scroll down for full removal instructions
There are a few simple, yet effective, virtual security steps that every user should take. First, our research team urges every Internet users to make scheduled backups of their hard drive. By doing so, you will limit the effects of a ransomware application if it ever infects your PC because you would be able to restore all the affected data in a matter of minutes. In addition to that, we advise you to practice safe browsing habits at all times. Be sure to refrain from all unauthorized download sites because they are full of bundled installers, which are usually filled with suspicious and even malicious programs. Also, you should know that malicious applications are often spread via spam email campaigns. Thus, we advise you to bypass all email attachments that come your way from unknown sources. Furthermore, be sure educate yourself about any application before downloading and installing it on your computer because cyber crooks infamously use misleading and otherwise suspicious marketing tactics to fool users into acquiring their devious programs. Finally, and most importantly, be sure to obtain and install a professional antimalware tool because it is designed to identify and remove any virtual security threat automatically.
Delete Gandcrab2 Ransomware without any hesitation. Under no circumstances delay the removal procedure since keeping this malicious application active on your PC could lead to further virtual security problems. Also, be sure to execute every step of the removal guide with care since a single mistake could result in an incomplete removal. That is a situation in which you do not want to be because traces of Gandcrab2 Ransomware could act deviously. For instance, this malware could be restored with the help of just a few leftovers. Also, those same traces could be enough for this ransomware to continue working. If you wish to be sure that the termination has been successful, make sure to recheck your PC for anything associated with Gandcrab2 Ransomware right after you are done with the extension procedure.
How to remove Gandcrab2 Ransomware from your PC
Open your File Explorer.
Go to C:\Users\(your username)\Downloads.
Select a malicious .exe file and then tap Delete on your keyboard.
Close your File Explorer.
Right-click your Recycle Bin and then select Empty Recycle Bin.
In non-techie terms:
Malware researchers at Spyware-Techie.com are well aware of the fact that some users find manual removal a bit too complicated. If you happen to be one of those users, there is nothing to worry about. Below we present an alternative removal guide. By following these instructions, you will be able to delete Gandcrab2 Ransomware automatically.