Do you know what GamingAssassin Toolbar is?
GamingAssassin Toolbar is considered a bad toolbar that you should remove due to the fact that it contains links to websites that feature third-party advertisements. It also changes the default search engine of the browser and displays customized search results which may contain links to unreliable, potentially dangerous websites. You should remove this application even if you find it useful, because failure to do so might result in undesirable consequences.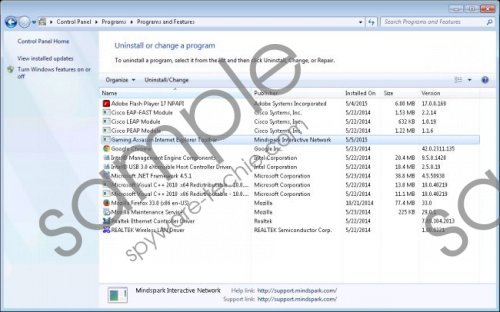 GamingAssassin Toolbar screenshot
Scroll down for full removal instructions
You should be aware that GamingAssassin Toolbar is a product of MindSpark, which is a widely known malware developer responsible for creating numerous unreliable toolbars and other browser extensions. SuddenlyMusic Toolbar, MySocialShortcut Toolbar, and Running Fanatic Toolbar are just a few infections that this company has recently rolled out. On top of that, the company also develops mobile apps and various desktop utilities that you should remove as well. At any rate, GamingAssassin Toolbar has its own dedicated website at Gamingassassin.com. You can download the extension for all three major web browsers, including: Firefox, Internet Explorer, and Chrome.
The infection may appear harmless, as it only features links to a gaming-related website called Gamingwonderland.com. But rest assured the websites is malicious, because it features third-party advertisements. We recommend that you remove GamingAssassin Toolbar, because the advertisements promoted on Gamingwonderland.com could contain links to infected websites, which could infect your computer with malware such as Trojans, rootkits, keyloggers, and so on. It is crucial to avoid getting infected with such malware, because it will be impossible to remove manually.
If your computer has been infected with GamingAssassin Toolbar, we advise you to stay clear of the gaming website it promotes, because the banners and the coupons found on the website could be a source of infection. It must also be mentioned that after infecting your computer, GamingAssassin Toolbar will automatically change your homepage and search provider to a modified version of Ask.com. The main issue with the search engine is that it provides customized results that could feature links to unreliable websites.
We hope that you found this article useful and you are now ready to remove GamingAssassin Toolbar from your computer. Just to recap what was said, we advise you to remove this infection, because the website it promotes is unreliable, since it features third-party ads. Mindsparks's Ask.com search engine is apt to present custom search result favoring unreliable websites. Therefore, we suggest that you remove GamingAssassin Toolbar at your earliest convenience.
Remove GamingAssassin Toolbar from your operating system
Windows 8/8.1
Open the Charm bar.
Click Settings.
Open the Control Panel and click Programs and Features.
Locate GamingAssassin Toolbar and right-click on it.
Click Uninstall.
Windows 7/Vista
Open the Start menu and open the Control Panel.
Select Uninstall a program.
Find GamingAssassin Toolbar
Right-click on it and click Uninstall.
Windows XP
Open the Start menu and open the Control Panel.
Click Add or remove programs.
Find GamingAssassin Toolbar and click Uninstall.
Remove GamingAssassin Toolbar from your browser
Internet Explorer
Press Alt+T and open Internet Options.
Open the Advanced tab and click Reset.
Select the Check box.
Click Reset.
Close.
Mozilla Firefox
Press Alt+H.
Select Troubleshooting Information.
Click Refresh Firefox.
In the dialog box, click Refresh Firefox again.
Finish.
Google Chrome
Press Alt+F and open Settings.
Select Show advanced settings.
Click Reset settings.
Reset.
In non-techie terms:
GamingAssassin Toolbar is a malicious application that you ought to remove due to the fact that the content featured on its promoted website contains third-party advertisements that could contain links to malware downloads. on top of that, the program changes the browsers homepage and search provider to a customized version of Ask.com, which customizes search results. these malicious traits render this application an infection which you should remove.