Do you know what GameZooks is?
GameZooks is a promotional application that is supposed to support the creators of gamezooks.com, which is an online gaming website. Since this application is clearly one that has no other function than to display third-party advertisements, our malware researchers have categorized it as an adware program. These pop-up ads can be rather annoying, but some users do not consider it important to act because they are not aware of the potential risks of having such adware on-board. We are here to share what you need to know about this infection so that you can clean and protect your system from similar malware infections as well. Many people think that closing the pop-up ads can help them avoid the potential exposure to unsafe websites. Unfortunately, you have no other choice but to remove GameZooks from your PC if you want act as a security-minded person.
According to our researchers, this application is very similar to ArcadeGiant and CrushArcade, which we have already covered. If you would like to know how you can eliminate these threats, please use our search box at the top to find their descriptions. The first suspicious thing about GameZooks is that you cannot even download it from the website it is supposed to support, gamezooks.com. The other thing is the website itself; you need to be very careful where you click. Actually, we do not advise you to play any games there because you might easily end up on other unreliable gaming websites. These sites are usually filled with shady third-party advertisements. Clicking on those may infect you with more malware programs.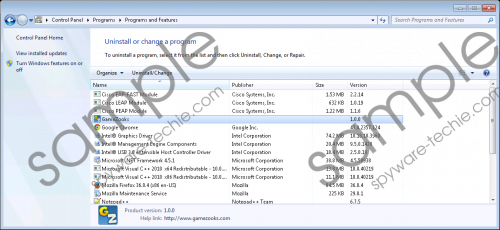 GameZooks screenshot
Scroll down for full removal instructions
But, if it is not downloadable from its own website, you might wonder how it can still end up on victims' computers. As a matter of fact, this application is mainly spread via freeware bundles. Unfortunately, nowadays you cannot trust bundles because schemers can hide malware infections in them. Bundling is a frequently used distribution method for malware because lots of users search for free software or torrents. That is why you can find these infected bundles to be hosted on shady freeware and torrent sites. One wrong click can result in such a software package landing on your machine. If you install the whole content, you can endanger the health of your operating system. Therefore, we advise you to delete GameZooks and right after that scan your system for other threats, if you want to make sure that your system is safe.
Since this is a completely worthless application, you will definitely not shed a tear if you decide to say goodbye to it. Because of the potential risks we recommend that you follow our instructions below in order to eliminate this threat from your PC. Even if you are not an experienced computer user, you can easily accomplish this task in a minute. However, not everyone likes manual solutions, and you may prefer a more efficient way that could take care of all the infections at the same time and automatically. That is why we also recommend that you use a reliable antimalware tool. Not only will it detect and fix all your problems, but it will also protect your PC from similar malware attacks.
GameZooks Removal from Windows
Windows 8/Windows 8.1/Windows 10
Press Win+X and go to Programs and Features.
Click on the unwanted program and press Uninstall.
Windows Vista/Windows 7
Press the Windows button on the Taskbar and choose Control Panel.
Access Uninstall a program.
Click on the undesirable program and press Uninstall.
Windows XP
Click the Start button and go to Control Panel.
Select Add or Remove Programs.
Click on the undesirable program and press Remove.
In non-techie terms:
GameZooks is a useless application that displays third-party advertisements on your screen and has no other function at all. However, these ads hold certain risks for you and clicking on them may be dangerous. You might get redirected to unreliable websites that may result in more malware infections or even getting scammed by criminals. Since this adware infection may arrive together with other malware threats, your virtual security may be facing multiple issues. We recommend that you remove GameZooks as soon as possible along with all other infections you may find.