Do you know what Gamevance Ads is?
It is quite clear that your system has been infiltrated by Gamevance Ads when you see third-party ads in your browsers that are labeled as "Gamevance Ads." These potentially risky third-party advertisements are generated by an ad-supported program (Gamevance) that can sneak onto your PC in questionable ways. Since these ads are not only annoying but also hold potential security threats, our researchers say that you should delete Gamevance Ads from your computer. But the "cleansing" should not stop at this. You need to know that unless you make sure that there are no more infections on your system, you will not be totally safe whenever you go online or switch on your computer. Please continue reading our article to find out more about this adware infection so that you can protect your PC more efficiently.
It is possible that you have been visiting suspicious gaming, pornographic, torrent, or freeware sites lately and you clicked on a corrupt ad while thinking you are downloading a useful application, for example. This mostly happens when you are doing a web search to find a free application or movie to download and you click on the most inviting link, which, unfortunately, can lead to an unfamiliar and unreliable file-sharing website. Landing on such a page can be quite devastating for you because you may be tricked into thinking that it is a legitimate site that can provide you with the targeted application or file. One suspicious sign is that there may be at least three or four download buttons and links on the same page; another one is that such a page is filled with flashy third-party banner and pop-up ads. If you do not want to infect your computer with a bunch of "nasties," you should steer clear of these sites. If you click on a button that looks like a Download button, you may simply drop a malicious bundle containing potentially unwanted programs, browser hijackers, and adware programs onto your machine. This could seriously increase the vulnerability of your system. If you are in doubt why you see annoying ads in your browsers, you should delete Gamevance Ads and run a full-system malware scan to identify all possible threat sources.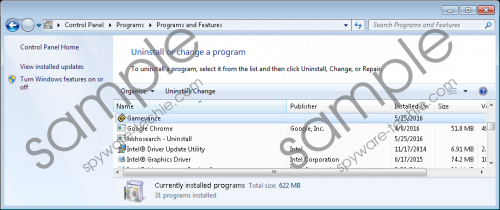 Gamevance Ads screenshot
Scroll down for full removal instructions
This adware has an official domain, gamevance.com, but instead of a promotional website, you get redirected to gamesafari.com, which is an online gaming site. Our researchers have found that there are several very similar gaming sites that promote Gamevance Ads, including tikiarcade.com and playpickle.com. The latter page seems to be down for the moment pending renewal or deletion. Whenever you visit these sites you may be introduced to unreliable content through third-party ads. Therefore, we recommend that you use reputable and well-known sites if you want to play online or want to download free games. It is quite possible that you do not only need to delete Gamevance Ads if you have installed games from these aforementioned sites because there may be other unwanted components as well.
When you install this application, you are asked to also install The Weather Channel Desktop application as well as an Ask.com toolbar. These additional tools might also pose a threat. However, the real issue here is generated by the third-party ads. These advertisements can be inline text links, pop-up, pop-under, and banner ads. You should never trust them as the only purpose of Gamevance Ads is to route web traffic to affiliated websites through third-party ads. This means that the more ads you click on, the more money you support potential criminals with. Unfortunately, there is no guarantee that the third parties whose ads this adware puts on your screen are all trustworthy. What if crooks pose as third parties? This adware can also spy on you and share the gathered data with potentially unreliable third parties who can misuse these to manipulate you into clicking. Since you can end up on malicious websites by engaging with these ads, we recommend that you remove Gamevance Ads ASAP.
If you want to take matters into your own hands, you can use the uninstaller of this application via Control Panel to clean it from your computer. Please use our guide below this article if you need assistance. This should not take more than a minute and you can do it even if you are an inexperienced computer user. Unfortunately, we cannot say this for every threat that may be hiding on your system. It is possible to detect and even eliminate a lot of less dangerous malware infections, but what about the more severe "invisible" ones? We believe that the best solution for you is to have a reputable anti-malware application that can provide you with full-time protection from all known malware threats. Keep this tool always active and updated for best results.
Remove Gamevance Ads from Windows
Windows XP
Press Win+R and type in Control Panel. Click OK.
Click Add or Remove Programs.
Select the application and click Remove.
Windows Vista/Windows 7
Press Win+R and enter Control Panel. Press OK.
Open Uninstall a program.
Select the application and click Uninstall.
Windows 8/Windows 8.1/Windows 10
Press Win+X and pick Programs and Features.
Select the application and click Uninstall.
In non-techie terms:
Gamevance Ads are annoying third-party ads generated by an ad-supported program. This adware can be downloaded from suspicious file-sharing websites in bundles or from gaming websites when you install a game. These ads can pose a threat to your virtual security; therefore, we advise you to avoid them at all cost. In fact, you should remove Gamevance Ads right now not to risk the exposure to potentially risky web content and cyber criminals. This adware can come on board with other malware infections so its presence can be real bad news for you. Our researchers suggest that you make sure that no infection remains on your system if you want to keep your PC protected. If manual detection and elimination are out of the question for you, we recommend that you use a reliable malware removal tool. Before you decide which security software you want to download, do your research not to end up with a rogue program.