Do you know what Gamestabsearch.com is?
Even though Gamestabsearch.com sounds like a program for gaming, it is a simple search engine that has a few links to websites related to games. What's more, it might hijack user's browser and change its default preferences. Thus, instead of your previous homepage and search engine, the browser should open Gamestabsearch.com after every launch. What makes it more annoying is that the application could show advertising and to make matters even worse, some of its ads could be malicious. For the computer's security, our specialists recommend erasing the application. If you choose to get rid of it, scroll below the text and use the provided removal guide. However, if you cannot decide yet, you should continue reading the article and learn more important details about the software.
The software comes from a company called Upside Innovations Inc. Unfortunately, this is not the first time we see this name since we have researched another questionable search engine released by this company. It was called Musictabsearch.com, and our specialists classified it as a browser hijacker. As you may have already guessed it, Gamestabsearch.com falls under the same category because it might hijack the user's browser and replace default search engine or homepage. Currently, the application is compatible only with Google Chrome, so it should not make any changes to other browsers, which could be installed on the system too.
Moreover, you should also know that Gamestabsearch.com could be distributed through suspicious pop-ups or bundled with other software. Either way, it indicates that the system is not protected enough, and if you download programs from unreliable web pages, you may expose the computer to threats. Thus, to avoid them, you should stay away from suspicious file-sharing websites. Also, it might be a good idea to learn more about program's developers before its installation. For example, you could look for some reviews, ratings, etc.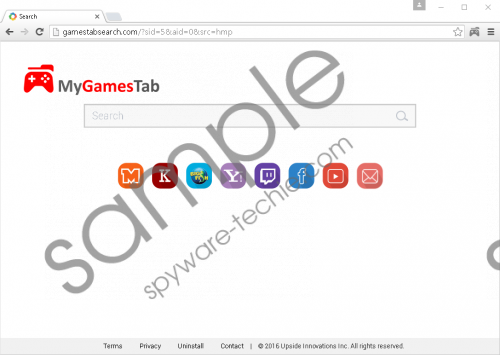 Gamestabsearch.com screenshot
Scroll down for full removal instructions
Furthermore, if you were or still are using this search engine, you should be aware that it might display modified Yahoo results. The difference is that the results the user might receive could be not the same ones he would get while searching with yahoo.com. For instance, they may include ads with links to third-party web pages. According to the application's Policies statements the hijacker can gather specific information (technical information, usage information, etc.) and use it to "provide you personalized content, including through the delivery of targeted interest-based advertisements from us or our partners."
Naturally, the ads could appear to be rather irritating, but keep it in mind that some of them might be even harmful. There is a chance that some part of them might have links to websites, which distribute viruses, ransomware, and other malware. Besides, other third-party sites could try to gather your personal or sensitive information, such as the user's name, email address, telephone number, etc. In order to get rid of these ads, it would be better to eliminate Gamestabsearch.com.
Luckily, the browser hijacker's removal is not that complicated. In fact, users can erase it manually on their own. As you can see it in the instructions placed a little below this text, firstly it is important to delete a browser extension that settles together with the threat. Then, it would be advisable to reset your Google Chrome. On the other hand, it might be better to eliminate the hijacker with a trustworthy antimalware tool. Especially, if you want to clean the system from other suspicious software or just acquire a reliable tool to help you protect the computer from malware.
Remove Gamestabsearch.com
Press Windows Key+E to launch the Explorer.
Locate the following directory: %LOCALAPPDATA%\Google\Chrome\User Data\Default\Extensions
Look for a folder titled as npcphogbhjnabbfopangpfiooacedgpg.
Right-click the folder and choose Delete.
Reset the browser
Press Alt+F at the same time, then click on Settings.
Slide down and select the Show advanced settings option.
Scroll down again, then press the Reset Settings button, and select Reset.
In non-techie terms:
Despite its title, Gamestabsearch.com is an application that has not much to do with computer games, although it does display a few links leading to gaming web pages. Nonetheless, our researchers are against its usage because the application could show you unreliable advertising content. Apparently, its displayed ads may redirect you to websites that promote adware, potentially unwanted programs, adware, and so on. Also, some of them could offer you to download malicious software as well. Given such risks, we would highly recommend the hijacker's deletion. If you follow the removal guide above, you can erase it manually.