Do you know what GamesFlight is?
GamesFlight is a potentially unwanted program. This means that the application is not a dangerous computer infection, but it may exhibit particular behavioral patterns that you could consider undesirable. Also, this means that the application could be rather vulnerable to third-party exploitation, and it could be used by third parties for their own malevolent plans. It is your duty to avoid that, and you need to remove GamesFlight from your system to ensure that the program does not get exploited. For more detailed instructions, please be sure to check the instructions below this article.
So why would users download such program? Probably because they are into online arcade games. If we check the official website for this application, we can see that the array of games you can choose is pretty big, so it can surely offer you quite a few ways to kill time. However, when we open gamesflight.com, we can see only the games and a few categories there, but there is no download button available. Also, when you try to play those games, you need to wait until an advertisement is done playing. This shows that the website and, consequently, GamesFlight support third-party advertising, and that is probably their main method of sustaining themselves.
However, if there is no download button on the main sight, how users manage to download this application? To be perfectly honest, potentially unwanted applications and adware do not rely on their official websites much to spread around. In fact, it is far more common to find these applications in freeware bundles that are distributed via file-sharing websites. Thus, you might have installed GamesFlight accidentally when you downloaded some codec or a file converter. According to our researchers, this application is often found bundled in third-party software installers, so that might be the most plausible distribution vector.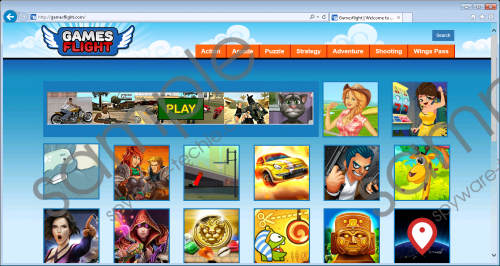 GamesFlight screenshot
Scroll down for full removal instructions
What's more, we would like to point out that with this potentially unwanted program on-board, there is a good chance that you have many other unnecessary freeware and adware applications, too. Since the program does not travel on its own, it is only natural that by allowing GamesFlight to enter your system, you also open the door to your computer for many other applications. Thus, if you have been experiencing an onslaught of annoying pop-ups or your computer has been behaving weird lately, it is very likely that you have been besieged by annoying and potentially harmful applications.
GamesFlight itself is very similar to GamerHippo, TwistArcade, GiantArcade, ArcadeHill, and many other applications that supposedly deal with online arcade games. Since we have dealt with similar programs before, we surely know how to remove it, so it should not be a problem. The problem may arise if you fail to terminate this game manager immediately. Although we are not trying to say that this program is there to infect you with malware or anything, it is quite often that these potentially unwanted programs end up tracking your web browsing habits, and then they display customized commercial advertisements.
These advertisements can significantly impede your system performance, and such programs sometimes could easily be exploited by cyber criminals. For example, they may embed a corrupted outgoing link into one of the GamesFlight's ads, and if you happen to click that, you could find yourselfon a website that distributes malware. Then, you would get infected with Trojans, ransomware, worms, and other malicious software. It is better to not reach this point because it might be hard to terminate specific infections and deal with their consequences.
Save yourself the trouble of recovering your files and blocking your credit card by removing GamesFlight today. Luckily, you can terminate the application via Control Panel. It should be enough to delete all of its files from your computer, but let us not forget other potentially unwanted applications that your system could be full of.
Scan your PC with the SpyHunter free scanner to determine which programs must be removed for good. An automatic software removal is one of your best choices when you want to clean your system. What's more, if you acquire a licensed antispyware tool, you will also be able to secure your computer against similar attacks in the future. Thus, think carefully and choose wisely.
How to Remove GamesFlight
Windows 10 & Windows 8.1
Press Win+R and the Run prompt will open.
Type Control Panel into the prompt and click OK.
Go to Uninstall a program and remove the unwanted application.
Windows Vista & Windows 7
Open the Start menu and click Control Panel.
Select Uninstall a program and remove the unwanted application.
Windows XP
Click the Start button and navigate to Control Panel.
Double-click Add or remove programs and uninstall the unwanted app.
In non-techie terms:
You may think that GamesFlight is a useful application that helps you access online games faster. However, the program has specific features that could lead to various computer security issues. If you want to protect your computer and your personal information, you will see to it that this program is removed from your system immediately. You should also look for other similar applications that might have entered your PC together to this gaming app.