Do you know what gamesFinder Search is?
GamesFinder Search is a potentially unwanted program that looks like a useful Chrome extension. You must have added this extension together with a number of other freeware applications. Even if you do not remember installing it, we cannot say that this program is a dangerous infection. A malware infection enters your system surreptitiously, while this extension does not even try to hide itself. It is merely a random application that has a questionable service. So if you really did not want to have this app, you might as well remove gamesFinder Search today.
Who would find this extension useful? As you can probably tell from its name, the plug-in aims to cater to the needs of avid online gamers. There are tons of games online, and sometimes you may feel lost in this abundance of choice. So here comes gamesFinder Search from myappzcenter.com to help you choose the games you might want to play. Everything looks nice, especially as the developers of this extension point out on their main website that they "focus on creating useful and better products for Chrome users." These are also the same people who released MyMoviesCenter Search and MusicFinder Search, too.
It would seem that with several applications behind their belts, these people would really offer you a good tool. However, our problem with gamesFinder Search is that it often comes bundled with freeware, and users do not even understand they add this extension to their browser. Of course, that is not the plug-in's fault, and users simply need to be more attentive when they browse the web and install new apps. However, the fact that this extension needs to "piggyback" on other programs certainly raises a few questions.
As far as our research team can tell, freeware bundles may not be the only unofficial way for gamesFinder Search to reach you. Such extensions may also hide in pop-ups that jump into your screen when you access certain websites. You probably have encountered similar pop-ups before when they open a new window and offer you to add something to your browser. If you read the pop-up carefully, you will probably click "No" or simply close the browser window to avoid dealing with unwanted programs. However, there are definitely users who click the blue button without reading things properly. As a result, gamesFinder Search and many other unwanted applications end up on their computers.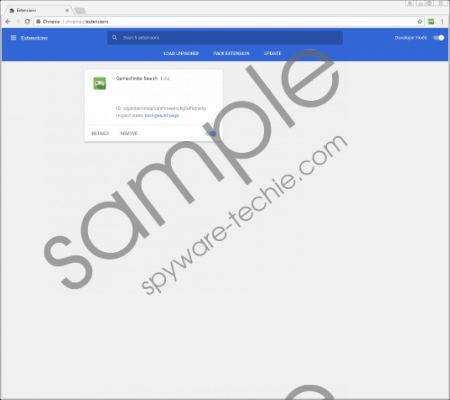 gamesFinder Search screenshot
Scroll down for full removal instructions
If you did not plan to have this extension, its presence might come as a bit of a shock because it may look that it has some browser hijacker qualities. After all, it changes your default search engine to search.myappzcenter.com. We have also found that if you enter "g" into your search file and press the Tab key, the extension automatically launches a search for online games in cantstopplaying.com. So the program is a little bit intrusive, and it is rather doubtful whether you need a third-party application to ransack some website for you when you can do it yourself.
Perhaps, the most disturbing thing about gamesFinder Search is that this extension could collect information on your web browsing habits for marketing purposes. If it were to display useful custom content, it would not be much of a problem, but such extensions are very vulnerable to third-party exploitation. Thus, if a malevolent third-party misuses this application's advertising space for their corrupted content, you could be just a click away from a severe malware infection. Albeit such turn of events is the worst-case scenario, and it does not happen very often, you should not take your chances.
You can remove gamesFinder Search following the instructions below this description. Naturally, you can also remove it via your browser's settings, but then you would have to restore your search engine as well. It is possible to simply reset your browser to default, but then you would lose other plug-ins and bookmarks you have made yourself. Hence, manual removal might be rather tedious, but it gives you a bigger control on what you want to keep.
On the other hand, if you do not want to deal with it on your own, you can get yourself a computer security tool that will remove gamesFinder Search for you automatically. If you do that, the security tool of your choice should also detect and terminate a whole load of other undesirable applications that you could have installed on your PC over the course of time.
How to Remove gamesFinder Search
Press Win+R and the Run prompt will open.
Type %LocalAppData% into the Open box and click OK.
Navigate to Google\Chrome\User Data\Default.
Remove the Preferences, Secure Preferences, and Web Data files.
Open Google\Chrome\User Data\Default\Extensions.
Remove the cdphnbnmmdamamhmeomchgfaifkdnnhp folder.
In non-techie terms:
Perhaps you do not think much when you find gamesFinder Search on your Chrome browser, but this extension could lead to a number of undesirable security consequences. If you did not add this plug-in consciously, that is the biggest reason to remove it from your system. Do it today and save yourself the trouble of dealing with a bunch of problems tomorrow. For any further questions, please do not hesitate to leave us a comment. Our team is always there ready to assist you.