Do you know what Games Bot is?
Games Bot is a potentially unwanted program or a PUP that might be installed on your computer in a few different ways. The program could have been downloaded from its main website that is located at gbot.uk.com. It should be pointed out that the download function is available only for users who are based in the USA or the UK. On the other hand, the application may also enter your computer via a third-party installer, and then your location would no longer be a crucial variable. While this program is not a computer security threat, it is often recommended to remove it due to potential issues.
Originally, this program is used to download Shockwave games, and if you are an avid gamer, perhaps you have encountered Games Bot before. However, we have encountered complaints were unsuspecting users claimed that this application appeared on their systems out of nowhere. If this is also your case, we would like to say that this is not the program's fault. The point is that Games Bot is also distributed in software packages, so it might be installed on your computer accidentally, when you download freeware applications from third-party sources.
In fact, it is very likely that, currently, software bundling is the most common method of distribution employed by this application. We have grounds to believe so because the official website cannot be accessed at the time of writing, but reports about installation and unwanted behavior still appear on a regular basis. As mentioned, the program is no threat to your computer's security, so what is it about that makes users want to remove it?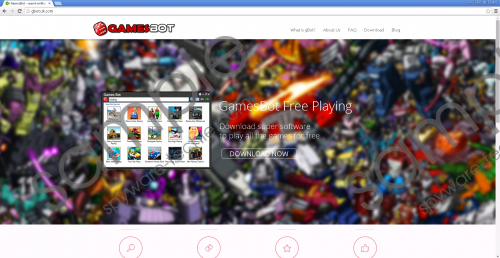 Games Bot screenshot
Scroll down for full removal instructions
The problem is that this program may overload your system. For instance, whenever the program runs, it may take up your system's resources and your CPU usage may soar up to 100%. Next, it would not be surprising to see that app processes regularly access your hard drive and slow down your Internet connection. This happens because Games Bot's process gbRunner.exe is constantly running in the background of your system. The process launches Chrome.exe that comes bundled with the application, and with that, the program can access particular websites behind your back. Albeit, the program does not seem to attempt to download anything malicious, it may hog your system resources to the point it might become troublesome to operate your computer.
That is why, computer security experts recommend removing Games Bot, especially if it was not your initial intention to keep the application on your system. Please follow the removal guide below to uninstall the program. If you think that there might be more unwanted applications on-board, please do not hesitate to run a full system scan with the SpyHunter free scanner. Your computer's security should be your utmost priority.
Remove Games Bot
Remove from Windows 8 or Windows 8.1:
Open the Charm bar, click Search, and enter Control Panel.
In the Control Panel menu select Uninstall a program.
Right-click the application you wish to delete and select Uninstall.
Remove from Windows Vista or Windows 7:
Click the Start icon on the left of the Taskbar.
Select Control Panel and navigate to Uninstall a program.
Right-click the application you want to delete and select Uninstall.
Remove from Windows XP:
Click the Start button on the Taskbar and open Control Panel.
Double-click Add or Remove Programs to find the installed apps.
Select the undesirable application and click Remove.
In non-techie terms:
Games Bot is a program that users install hoping to play games for free. Unfortunately, few things come completely for free, and Games Bot, in return for providing games, will use your computer to perform additional processes that will take over your system's resources. Due to this, we suggest removing Games Bot from your operating system. If you agree with our removal suggestion, you can either use automatic malware removal software or follow the manual removal guide to delete Games Bot.