Do you know what GamerzLand Search Extension is?
GamerzLand Search Extension is presented as a tool that can help users switch between particular search engines faster. However, our researchers have tested the add-on and found out it always defaults back to search.yahoo.com. More than that we noticed all searches might be redirected to a suspicious website called gmrlnd.com. Such behavior makes us suspect the application could show users additional advertising content from various third parties. Naturally, we would not advise interacting with ads from unknown sources since they could be potentially dangerous. Another thing you should know about GamerzLand Search Extension if it appeared on your browser is that it was classified as a potentially unwanted program and computer security specialists recommend deleting it. If you do not want to keep it on your computer either, we can offer our removal guide available just a bit below the text. For those who would like to know more about the unreliable add-on, we encourage them to read the full article.
GamerzLand Search Extension can work only on Google Chrome, so needless to say you should not encounter it if you are using another browser. At the beginning of our research the potentially unwanted program was distributed through Chrome Web Store page, but now it looks like it has been removed. Besides Chrome Web Store page the application was and still seems to be distributed through its official website (lg.gamerz-land.com/gamerzlandb/gamerzlandb/n/zz/). Also, our computer security specialists think it could travel with software bundles or might be promoted on unreliable pop-up ads you may encounter while visiting suspicious web pages. There might be even users who could install the application accidentally. For instance, it c happen if the add-on happens to be bundled with another program and you overlook it on the configuration wizard. If this situation sounds familiar and it occurs quite a lot, we urge you to be more attentive during the installation process and more careful while picking the tools you want to install.
According to the GamerzLand Search Extension's End User License Agreement paper, the application might modify the affected browser's new tab or default search engine settings once it settles in. What's more, after the installation, the potentially unwanted program should create a small icon on the top-right browser's corner. Our researchers say clicking it may open a little menu allowing to choose from one of the following web pages: search.yahoo.com, addictinggames.com, shockwave.com, y8.com. The idea is the user should be able to pick one of the sites, then insert a keyword representing what he wishes to find, and the application should search for it only on the chosen website. Nonetheless, our researchers noticed at first the inserted query is redirected through gmrlnd.com and then it might be redirected to search.yahoo.com. We believe the first redirection is for picking advertisements related to the used keyword and the second one is to gather actual results.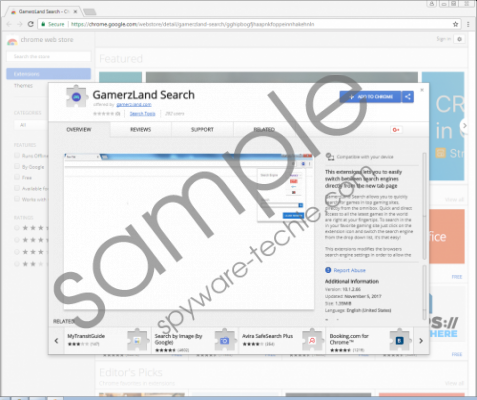 GamerzLand Search Extension screenshot
Scroll down for full removal instructions
In other words, it is quite possible the results gathered by GamerzLand Search Extension could be injected with additional advertising content and knowing it may come from various third parties; we doubt it can be trusted. Especially, when the potentially unwanted program's creators claim they do not take any responsibility for third-party content. Thus, if the application does not work how you expected and you do not want to risk encountering potentially dangerous advertisements, we encourage you to delete it from the computer as fast as possible. For those who would like to get rid of it manually, we can suggest the removal guide placed a bit below the text. Users who find the task a bit complicated or merely wish to clean the system from other possible threats we would recommend acquiring a reputable antimalware tool instead.
Erase GamerzLand Search Extension
Launch Google Chrome.
Press ALT+F.
Select Settings.
Click More tools.
Select Extensions.
Look for GamerzLand Search Extension.
Click the trash bin button near it.
Press Remove.
In non-techie terms:
GamerzLand Search Extension is a browser add-on classified as a potentially unwanted program. It means the application might have undesired qualities and as a result, even those who install it themselves may wish to get rid of it later on. We do not say it could be malicious, but from what we have learned during our research it seems possible the tool might show additional advertising content from its third-party partners. The problem with third-party ads is that they may come from any source, which means some of them could be potentially dangerous. Therefore, we believe users who worry about their computers safety should use a more reliable search engine. If you do not plan on taking any risks with this potentially unwanted program either, we recommend erasing it with the removal guide available above or a reputable antimalware tool of your preferences.