Do you know what Gamersuperstar is?
If you have experienced a great number of third-party advertising in your browsers, it is possible that you have infected your computer with Gamersuperstar. Despite its name, this extension is simply an annoying adware program that can turn your peaceful browsing experience into a nightmare. It does have something to do with gaming though since it is related to a questionable online gaming website. The real problem apart from the annoying and potentially harmful third-party ads is that this adware can sneak onto your system along with other malware infections and potentially unwanted programs. If you do not want to let further threats onto your system or end up being scammed online, we recommend that your remove Gamersuperstar from your computer as soon as possible.
You can find the related online gaming site at gamersuperstar.com, but you may not find a way to download or install this adware there. This is a bit strange because there is actually information on this site about how to uninstall it. The only official place where you can actually directly install this extension is the Chrome web store, chrome.google.com/webstore/detail/advertisement-offers-by-g/eogmpgppidehapppmipeahegomlindkg. So, if you have not ever visited this page, it is quite likely you installed this adware in an alternative way; and, this usually means that it will not be enough for you to delete Gamersuperstar alone. Let us tell you why.
Have you visited a suspicious file-sharing websites lately and downloaded free files (software, movies, or audio)? If so, you may have the reason why your PC is infected. It is essential to know that most torrent and freeware sites promote questionable software bundles. When you download a cracked program or a keygenerator, it is always risky to run them on your system because you could easily harm your computer. Installing a bundle is always risky, in fact. This is why you always need to read the license agreement carefully as well as all the installation screens. These installers are usually quite misleading by design. This is why a lot of unsuspecting users end up installing potentially unwanted programs as well as all sorts of malware infections like adware programs, Trojans, fake alerts, browser hijackers, keyloggers, and so on. If you want to be certain that your PC is clean and secure after you delete Gamersuperstar, we suggest that you run a reputable online malware scanner.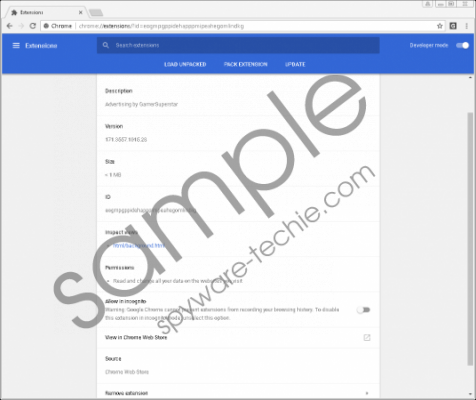 Gamersuperstar screenshot
Scroll down for full removal instructions
To be frank, this malware infection has no use for you at all. Its only function is to promote third parties to you in all kinds of ways, including banners and pop-ups. But such an adware is usually not undesirable only because of these ads. The real problem here is that you cannot trust the content this program may show you. Unfortunately, such an adware can spy on you and gather data regarding your browsing activities to send you customized advertising to your screen. But there is no guarantee that such information is not shared with questionable third parties or that all the ads you see are trustworthy. As a matter of fact, it is quite likely that you can be introduced to unreliable ads if this adware is installed on your computer. If you click on a questionable ad, you can easily drop other threats onto your PC or even get redirected to malicious websites on new tabs. If you do not want to be scammed by cyber crooks and lose money, we suggest that you act now and remove Gamersuperstar from your infected browsers.
If you are ready to eliminate all the annoying ads related to this ad-supported program, please follow our instructions below this article. Please remember that by simply removing this undesirable extension, you may not make your whole system clean. There could be several more threats hiding here and there. So, it is possible that you could do more by resetting your browsers. But even that may not be enough. You should also check your list of installed programs in Control Panel and uninstall any suspicious applications you have installed recently. The truth is, while these steps can help you make your PC more secure, there is always a chance that you overlook some more serious threats that may not be this conspicuous to find. This is why we advise you to install a decent up-to-date malware removal application like SpyHunter, which can automatically take care of all your system security issues.
Remove Gamersuperstar from browsers
Google Chrome
Tap Alt+F and go to More tools.
Select Extensions.
Locate the undesirable extension.
Press the Remove button.
Press Remove again to confirm.
Mozilla Firefox
Tap Ctrl+Shift+A to directly open the Add-ons menu.
Select Extensions on the left.
Locate the undesirable extension and press Remove.
Safari (Mac OS)
Display the Safari menu and go to Preferences.
Choose the Extensions tab.
Click on the extension to select it and then, press Uninstall.
Press Uninstall again to confirm.
In non-techie terms:
Gamersuperstar is an annoying adware application that has no use for you whatsoever. This suspicious browser extension is linked to a low-quality online gaming site, gamersuperstar.com, which could display unreliable third-party advertisements. This adware can also flood your screen with all kinds of distracting third-party advertisements, which may not be reliable, to say the least. Another problem with this ad-supported browser extension is that it is quite possible that you install it without specifically wanting to. In other words, it is possible that you install it as part of a software bundle, which may carry malware infections as well. Our researchers have found that this adware can affect your Safari (Mac OS), Google Chrome, and Mozilla Firefox browsers. We suggest that you remove Gamersuperstar as soon as possible. If you cannot protect your PC properly, it may be time for you to consider installing a powerful anti-malware program.