Do you know what Gamersinfo.org is?
Gamersinfo.org is an advertising server that sends different advertisements to your screen if you install certain advertising-supported programs. There are a great many adware program communicating with this server, and, if you like downloading various free programs, you should bear in mind that you may be offered to install an additional program at any time. The program displaying Gamersinfo.org advertisements, which may include web banners, pop-ups, and full-screen advertisements, can get onto your computer alongside various programs, and you should be very attentive to the information you are provided with.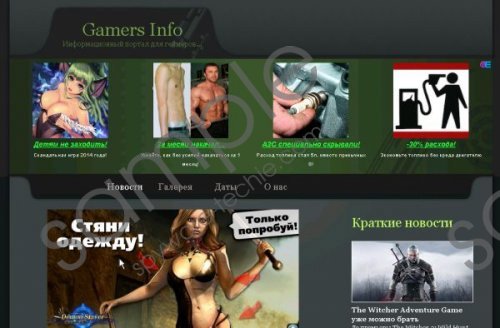 Gamersinfo.org screenshot
Scroll down for full removal instructions
We urge you to remove the program related to the server Gamersinfo.org, because you cannot know to what website you will be directed upon clicking on those Gamersinfo.org ads. The server only features third-party advertisements, and the owners of the program accept no responsibility for the content to which you are exposed by Gamersinfo.org. Beware of advertisements promoting, online surveys, system scanners, updates for Java and Flash, and other suspect services or products. Advertising-supported programs, usually browser add-ons, are one of the means to drive more traffic to malware websites, so, if you really want to be secure on the Internet, do not wait but remove the unwanted program.
Do not delay the removal process because the program is likely to be monitoring you, which is a typical feature of advertising-supported applications. Information about the user and his or her interaction with the product is of great importance because the developers want to enhance the quality of their product. Hence, the program communicating with Gamersinfo.org may be recording your clicks, impressions, search terms, browser settings, browser settings, and some other non-personally identifiable information. In some cases, some personally identifiable information may be recorded alongside anonymous information, which is another reason why we urge you to remove that unwanted program from the PC.
The instructions below should help you uninstall any undesirable program that has its uninstaller, but you should consider scanning the system so that you can be sure that the system is adware-free. Our advice is that you install a reputable scanner that is powerful enough to detect and remove adware programs, browser hijackers, Trojan horses, ransomware, and many other dangerous programs. The sooner you implement a reliable security program, the sooner you can start browsing the Internet safely, so take action right now.
How to remove Gamersinfo.org
Windows Vista and Windows 7
Open the Start menu.
Click Control Panel.
Select the Uninstall a program option.
Remove the unwanted application.
Windows XP
Open the Start menu.
In the pop-up window, click Control Panel.
Select the Uninstall a program option.
Uninstall the adware program.
Windows 8 and Windows 8.1
Press Win+R and enter control panel.
Click OK.
Click the Uninstall a program option.
Remove the program displaying pop-up advertisements.
In non-techie terms:
After uninstalling the unwanted program, you should scan the operating system to make sure that no malicious files are running in the background. To do so, use our recommended scanner, which you can install with the help of the following instructions.