Do you know what Gamelauncher Ads are?
Annoying Gamelauncher Ads might start appearing on your computer one day due to the entrance of a Trojan infection. This Trojan, as our team of specialists has revealed, is usually installed alongside a harmless application – the checkers game. Cyber criminals use this game as bait, and it seems that their tactic worked because there are quite many people complaining that they see Gamelauncher Ads on their screens. If you are one of them, it means that you will have to detect and remove the Trojan infection from your computer. In the meantime, we suggest ignoring all the ads you will see because they are known to be capable of exposing users to potential threats. We cannot promise you that it will be very easy to remove Trojan showing ads, but you should still gather yourself and delete this computer infection if you can no longer stand those ads it shows for you. Continue reading for more information regarding the deletion of malware.
Gamelauncher Ads will not appear on your screen immediately. As research has shown, the website http://krawzasireglem.ru will be opened at first, and then it will redirect users to domains serving advertisements. As a consequence, you might see all kinds of URLs in the address bars of those commercial ads, for example, http://traffic-media.co/mghtml/framehtml/c/1/t/607785.html and http://chain-reaction-pro.co/ref/cr06. It does not matter which domain you see because all these Gamelauncher Ads are equally dangerous. Nothing bad should happen to you if you do not pay attention to the ads you see and do not click on them; however, the majority of users decide to click on them to get more information about the promoted product/service or just out of curiosity. Of course, some of them also click on ads accidentally. You need to know that it is dangerous to click on Gamelauncher Ads because they might take you to unreliable websites. These websites might contain malicious software or just untrustworthy links. Generally speaking, you might cause harm to your computer quickly if you do not do anything to remove Gamelauncher Ads from your Desktop.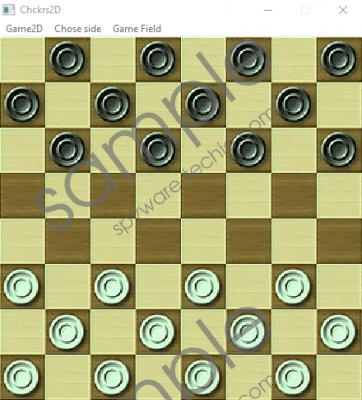 Gamelauncher Ads screenshot
Scroll down for full removal instructions
As you already know, the harmless checkers game is installed on the computer with the dangerous Trojan. The name of this threat is Trojan.Notepices, whereas you will see the game Gamelauncher installed on your system. According to our researchers, the Trojan infection and the checkers game have entered your computer together in a software bundle. It has been noticed that the majority of people who start seeing Gamelauncher Ads tend to download software from third-party websites, so our specialists believe that you have downloaded a bundle from a similar untrustworthy web page too. Believe us; malicious software will always find a way to enter your computer if it wishes to do so, so we highly recommend installing a security application to be able to prevent undesirable software from entering your computer. Of course, it does not mean that you do not have to be careful yourself too.
To eliminate Gamelauncher Ads from your screen, you have to remove the Trojan.Notepices from your computer fully because it is the one responsible for opening new tabs and pop-ups for you. As this infection is a very serious one, its deletion will not be an easy process. Therefore, we suggest using the manual removal guide that can be found below. Alternatively, this computer infection can be removed by scanning the system with an automatic malware remover, such as SpyHunter. You can leave the checkers game installed if you want to because it is not dangerous at all; however, if you decide to remove it, you could be able to do that easily through Control Panel.
Delete Gamelauncher Ads
Windows XP
Click on the Start button.
Select Control Panel.
Click Add or Remove Programs.
Select the unwanted application and click Remove.
Windows 7/Vista
Open the Start menu and click Control Panel.
Click Uninstall a program.
Right-click on the unwanted program.
Uninstall it.
Windows 8/8.1/10
Launch RUN (Win+R).
Enter Control Panel in the box and tap Enter.
Click Uninstall a program.
Right-click on the undesirable software.
Click Uninstall.
Remove Trojan.Notepices
Tap Win+R.
Type regedit.exe in the box and click OK.
Open HKEY_CURRENT_USER\SOFTWARE\Microsoft\Windows\CurrentVersion\Run.
Right-click on the Seviler Value and delete it.
Right-click on the registry key HKEY_CURRENT_USER\SOFTWARE\Seviler. Delete it.
Close the Registry Editor and open the Windows Explorer (Win+E).
Type %APPDATA%\GameLauncher\Seviler in the URL box.
Delete the file Seviler.exe .
In non-techie terms:
Even though you fully remove the Trojan infection from your computer, other undesirable programs (if there are any on your PC) will stay and work in the background. Therefore, our security specialists highly recommend scanning the system with a reliable scanner right after you get rid of Gamelauncher Ads to eliminate other bad programs and components from the computer.