Do you know what Futurro Antivirus is?
Futurro Antivirus is a computer infection which has been created to steal your money. It is directly related to Dream Scan Soft rogue antispyware, and both computer threats are actually rather similar applications that can be easily removed from the PC. The most important thing is to realize that Futurro Antivirus cannot help you protect your system from malware. It is a malware infection itself and the sooner to delete Futurro Antivirus from your computer the better.
This application can be installed on your computer via several different methods. For example, it might arrive through fake online malware scanners or the installer could be hiding in the social engineering messages. The most important thing is not to click outgoing links to websites you do not know, because there is always a chance of malware infection. However, if you end up installing Futurro Antivirus on your computer, you will soon be attacked by the rogue which will try to convince you that you are infected with a variety of threats.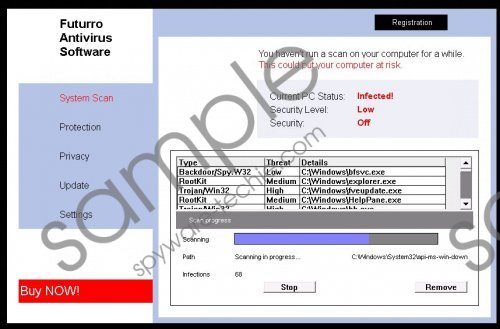 Futurro Antivirus screenshot
Scroll down for full removal instructions
The good thing about Futurro Antivirus is that this rogue does not add an auto-start key into the Registry, so it only starts if you launch the program yourself. In such a case, the application functions as your genuine rogue antispyware by running a full (fake) system scan and providing you with a list of supposed infection. Needless to say, that you are NOT infected with the malware in the list, and you should never fill out the purchase form provided to you by Futurro Antivirus.
It may seem like an alluring offer, especially since Futurro Antivirus offers you to purchase an unlimited license for $79.95, but that is not going anywhere because, once again, Futurro Antivirus is FAKE, and it cannot live up to its promises.
You need to close the Purchase form right now, and exit the program. It is not hard to remove Futurro Antivirus manually, but you should seriously consider acquiring a powerful antimalware tool that would ensure you remove Futurro Antivirus through and through. Scan your computer with SpyHunter free scanner to detect all the malicious files. Then invest in a real licensed computer security application that would delete all the other potential threats from your computer.
In order to push you into spending the money, Futurro Antivirus also denies you access to the Internet and various programs. However, you can easily bypass this obstacle by applying the following activation key:
AA39754E-715219CE
When the rogue is activated, it will stop displaying fake security notifications and all the symptoms will disappear for a time being. In the meantime, download SpyHunter and run a full system scan to terminate Futurro Antivirus for good.
In non-techie terms:
Futurro Antivirus is a dangerous computer infection that makes an impression your system is wrought with various threats and it is the only application that can help you remove them. However, remove Futurro Antivirus right now and scan your PC to make sure that there are no other malware threats on board.
Aliases: FuturroAntivirus, Futurro Virus.