Do you know what Fusion Browser is?
Our security analysts have recently tested a new web browser called Fusion Browser. This browser looked quite promising at first, but our researchers have found it to be unreliable. Thus, we suggest removing this web browser and getting a new one, because it has been classified as a potentially unwanted program (PUP). We recommend swapping it for an established reliable web browser that comes from a known developer, because Fusion Browser's developers are unknown. Moreover, our researchers have found that this browser can come with malicious extensions by default. These extensions are set to display advertisements that come from unreliable sources. However, we do not consider this browser as malicious because you can remove its bad extensions. Still, due to its shady origins and rather deceptive distribution methods, we suggest getting rid of it, but if you are not convinced, then please continue reading.
This application is owned by a company that calls itself Fusion Browser Media. This company is based in Canada and seems to be a real company. Yet there is not much information about it and to our knowledge this browser is it only product. Interestingly, this browser has a clone called WebDiscover Browser. Apparently this clone is owned by another company, but there is no reason to believe that both of these web browsers did not come from the same developer.
At any rate, our researchers have found that Fusion Browser is currently being disseminated using two methods. Firstly, its download is hosted on its dedicated download website at Getfusionbrowser.com. This website also serves as a promotional platform. However, we have found that very few people ever download it from this website as most download are unintentional, but rather accidental. The fact of the matter is that the second method used to distribute this program is software bundling. Software bundling involves packing several applications into one installer and you can accidentally install all of the programs found on the bundle if you do not remove them prior to starting the installation. So Fusion Browser is often hidden in deceptive software bundles, but you can opt out from installing it by clicking custom or advanced installation settings. Of course, there are variations, because this browser can be bundled with all kinds of installers.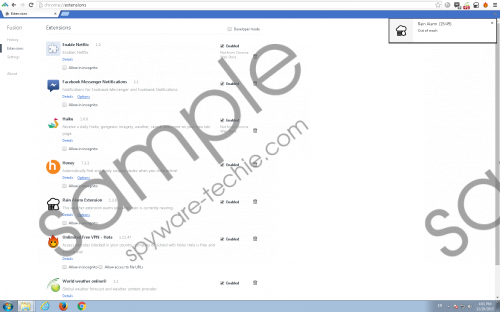 Fusion Browser screenshot
Scroll down for full removal instructions
Almost all browsers that have been classified as potentially unwanted programs are based on the Chromium platform. This platform is open source and freely available to the public. So anyone can create their own browser and many people do, but for selfish reasons it seems. This web browser looks similar to Chrome but most of the time it is just a search bar located at the top of the screen. Its full browser window has to be dropped down by clicking a certain button and that is all well and good.
However, we have a problem with the fact that the bundled version of Fusion Browser comes with unreliable ad-supported extensions called Genius Box and RightCoupon. These extensions are known to display annoying pop-ups, coupons, and banners. Nevertheless, annoyance is the least of their vices as their ads are also unreliable and can easily get your computer infected with more malicious software. This is the main reason why we recommend uninstalling this browser. Note that the version found on its dedicated website features legitimate extensions and this version is considered safe. Still, both versions feature a search engine that can show ads in its search results. So you ought to uninstall Fusion Browser regardless of the version you have.
Uninstalling this browser is not a difficult task. However, if you are unaware of you can do this, then we suggest consulting our removal guide below. Our researchers say that this program does not leave any junk files so uninstalling it via Control Panel is sufficient. Still, we recommend getting an application that would warn you about potentially unwanted programs you might accidentally install and prevent their installation when necessary.
How to uninstall Fusion Browser
Windows XP
Click Start.
Go to Control Panel.
Click Add or Remove Programs.
Find the browser and click Remove.
Windows Vista & Windows 7
Click Start.
Go to Control Panel.
Select Uninstall a program.
Find the program and right-click on it.
Uninstall the unwanted web browser.
Windows 8, 8.1 & 10
Right-click on the Start menu/Start screen.
Go to Programs and Features.
ind the program and right-click on it.
Click the Uninstall button.
In non-techie terms:
Our security analysts have classified Fusion Browser as a potentially unwanted program, because, although it is not malicious, it contains malicious ad-supported third-party browser extension that can promote unreliable content that might jeopardize your computer's security. So we recommend uninstalling Fusion Browser and getting a new browser.